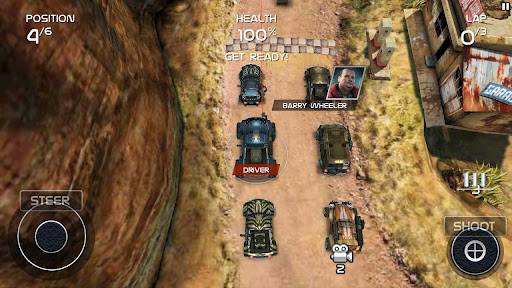 It's a good time to be an Android owner and a classic gaming fan. The latest 90s-era game to come to Android is the racing/shooting hybrid Death Rally, a Twisted Metal-style game that pits your customized war machine against other on the highway to he… er, Arkansas. The tongue-in-cheek game was released for iOS last year, but now it's available on Android for free, bupkiss and nada. Imagine it as Reckless Racing with machine guns, and you're just about there.
Death Race hit the PC scene way back kin 1996. Then and now it comes from developer Remedy, better known for Max Payne and Alan Wake. At the time it was a popular slant for racing games, as Twisted Metal had lit up the original PlayStation the year before. Death Rally focuses more on actual racing than the likes of Carmageddon and such – you can have a lot of fun duking it out with your fellow racers as you demolish various urban landscaped, but if you don't finish in the money, you're wasting your time.
The original game is naturally somewhat dated, but the Android version gets updated graphics via the re-release of Death Rally in 2009. That being the case, you'll want a decently powerful phone or tablet to play it – something in the range of a Tegra 2 would be preferable. No matter what hardware you've got, it'll work on Android 2.2 or later. It's a free download, so if you're near a WiFi network or you're lucky enough to have an unlimited data plan, give it a spin. Load up, strap in and hang on.
[via DroidGamers]