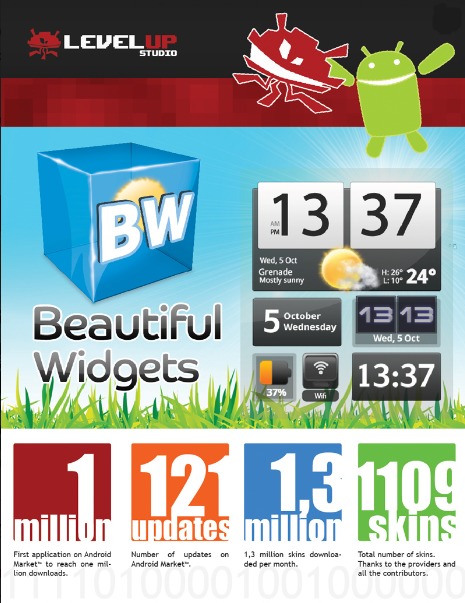 Hopefully everyone is well aware of Google's latest news that the Android Market has surpassed 10 billion downloads. Today LevelUp Studios is celebrating something similar as the first paid app to pass 1 million downloads from the Android Market. I know things like Angry Birds comes to mind but it didn't launch originally on the Android Market and most of its downloads were on GetJar. The extremely popular weather and clock widget Beautiful Widgets is the first to 1 million downloads on Android and gets to claim the crown.
Now since Google is celebrating their 10 billionth download they've been kind enough to offer 10 apps for the next 10 days — at just $0.10 cents. We've been following the news and yesterday Beautiful Widgets was one of the lucky few on the list. Running just 10 cents for 24 hours yesterday Beautiful Widgets saw a huge surge in downloads and thanks to their participation, and Google's sale they've boosted above the 1 million mark. Congrats guys!
The info-graphic above will give you some additional details on their achievements. 1 million downloads, over 100 updates, thousands of skins that get downloaded daily Beautiful Widgets is by far the biggest and best when it comes to Android apps. We've been fans for a long time here at AC and have covered them more then a few times. Here's a quick hands-on with BW back when tablet support was added. Hopefully yesterday you were lucky enough to get in while the amazing application was only $0.10 cents but if not you should definitely get it today because it's worth the small price. If you haven't gave it a try yet we highly suggest you do so soon.
[via LevelUp Studio]