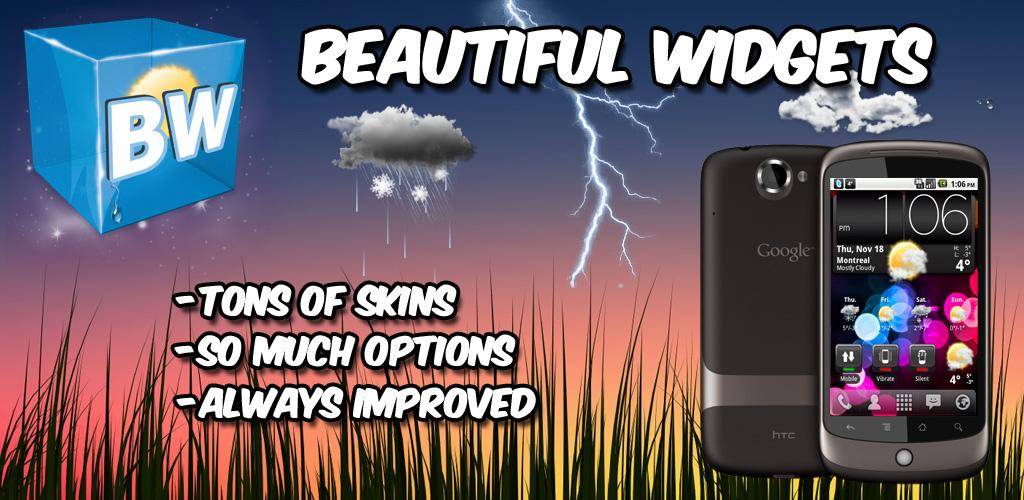 Beautiful Widgets by LevelUp Studios has been one of, if not the most downloaded app for Android other than some games. Everyone that doesn't have HTC Sense seems to use Beautiful Widgets. They have now updated the widget pack to support Android tablets and the new look and interface for my Xoom sure looks like. I have some pics for you all to enjoy. It just recently finished it's BETA.
They have completely redesigned the layout, and menu's and what not to be fully compatible with Android 3.0 Honeycomb and I must say, they did a good job. It works great, it's smooth, and the new Moon phases sure are cool. I have Weatherbug for Honeycomb but the widget disappears every 3 minutes, very irritating when you can't see it to remove it. So for now I'd have to recommend Beautiful Widgets.
On screen look of Beautiful Widgets on my Xoom, this is one of many different looks, you can make it completely custom, change colors, font, opacity and everything.

Next up is inside the app when you touch the sun, or the clouds. the animation into full-screen is smooth and clear and you can still see the home screen under it, me likes.

Here we have the new Moon Phase option, it is really cool and I've used it for the last few days just to check it out. It is really neat to see the different phases. Nice touch levelup, nice touch. They use honeycomb's context menu on the top right of course.

Now to keep this short I'll just show one of the settings tab, You can go in and change whatever is needed. Here is a screenshot of me changing the widget from showing weather and the sun, to my battery life instead. Options, and more options are what we get with Beautiful Widgets. That is why they are so popular.

I told you I would keep it short, and I really tried. They have just done a great job making the widgets and animations smooth and well, beautiful. So I had to show a few screenshots and what not for you all. I'm sure more updates and options will come as they tweak it for tablets, as the phone version sure has tons and tons of options. I've downloaded a few skins and made it look pretty funky so far, but for now I'm going to keep it simple. Go ahead and get Beautiful Widgets in the Android Market now and enjoy it, I've used it since my G1 days. Thanks for reading, don't forget to click the gallery below for larger pictures.