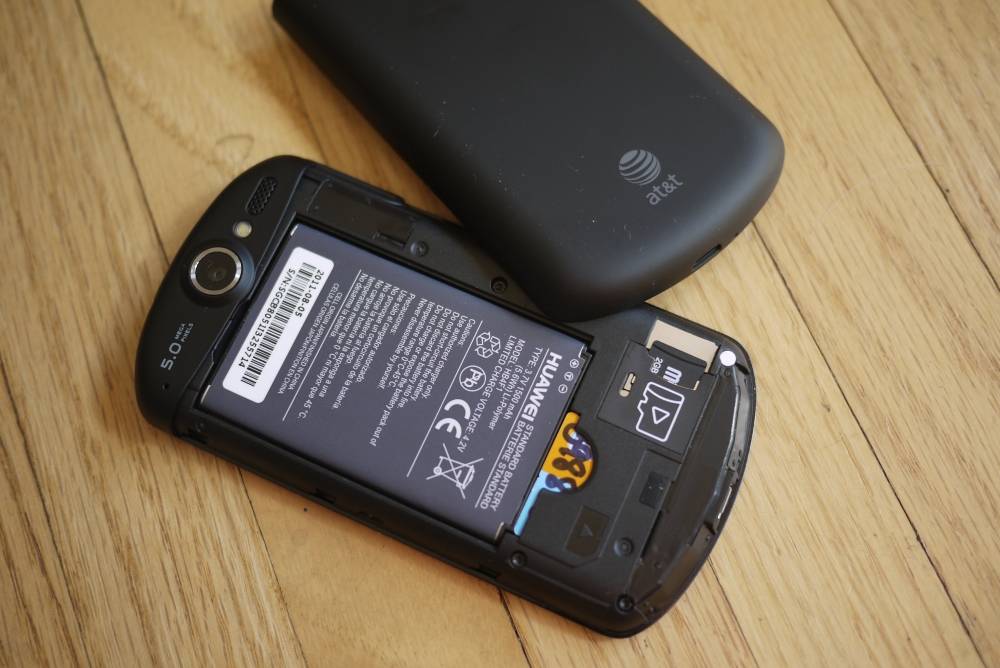 When it comes to AT&T, it's difficult not to get lost in the fold, the massive amount of devices this carrier carries, especially when it comes to Android. What Huawei has done here is to not concern themselves with being the biggest, the best, the thinnest, or the lightest, instead coming forth with one of the most plain and easily pocketable devices I've ever seen carry Android. If there was a phone that I'd peg for most likely to be recognized for it's designers, this certainly would win the award for being the opposite of that. Is this Huawei the key to commonality here in the States?
Hardware
When a smartphone comes out on a carrier, especially one so populated as AT&T, the most common thing for a manufacturer to do is to make it look unique so as to attract attention away from the rest of the devices that have comparable specifications. What Huawei has done is to create a device that will be chosen by the person in your family looking for the device LEAST likely to grab attention. You've got a few curves here, a small camera on the back at 5-megapixels and auto-focus with a single LED flash.
You've got the option of adding a microSD card on the inside aside your 1500 mAh battery, and your display is a 3.8-inch WVGA 480 x 800 pixel resolution LCD display. This means its better than a large batch of the mid-range Android devices out there, but it's certainly not going to compete with the top-tier handsets. The backing of this device is a nice soft plastic, while the entire front is a single touch panel. (save the border in black.)
In the box you get a microUSB cord, a wall jack, and some guides. This device is essentially the exact same phone as the Huawei IDEOS X5, a device revealed internationally in late 2010 when its specs were much more impressive. What we've got now is a device that might do well if it's offered at a good price point – and note here that it certainly is, currently set to be sent out to customers at $30 a pop attached to a 2-year contract on AT&T. That's cheaper than a night on the town!
[vms 2ce2e50136bda65c25e0]
AT&T Impulse 4G by Huawei Hands-on and Unboxing
Software
Huawei has essentially added nothing to the apps collection here while AT&T has added their familiar set of carrier-specific apps you know and love (or skip over, if you're that sort of person). Huawei instead has concentrated, again, on joining the Android fold with a solid, completely Google-created Android interface, with no added changes from their own software design team (which we must assume is non-existent.) That said, things do not feel nearly as slick and perfected as they do on the Nexus S or the Nexus S 4G, devices made by Google and Samsung to show off Gingerbread.
Huawei comes loaded with FroYo, and 2.2.2 at that, meaning you're not only behind the rest of the Android universe by a full version number, devices have been coming out with the next version for months and months now, your device here appearing to be a b-roll Huawei forgot to ship at the beginning of the year. That said, it's always nice to have a nude version of Android, even if it's the old one at its time of release.
You can see everyone's favorite Mobile Minute guy giving you a rundown of the features on this device here – note his slight lack of enthusiasm in the face of a device that, compared to basically every other device he's shown off, looks pale in comparison.
https://www.youtube.com/watch?v=NYZ8zAtbyB8
Camera
Like most modern smartphones, the camera on this device is OK. Have a look at some examples below and see if it suits your fancy:
Wrap-Up
This is not the nicest phone in the mid-range handset collection at AT&T. At $30 with a 2-year contract at AT&T, it certainly is the least expensive device running on its HSPA+ 4G network (except of course any such devices on super sale at $0, which does happen from time to time.) At this point you've got to think about how much the data plan is costing you and whether or not you want to be using this less-than-perfect device for a further 2 years. More than likely it'll make more sense for you to either drop a few more bucks and pick something fantastic up from a different manufacturer, or just wait a few more months for the Huawei Honor to hit our shores – perhaps sometime before 2012? Ya never know.
That said, Huawei, we're still excited for you to continue bringing in devices here to the states. More manufacturers mean more competition and better devices. This goes for Huawei, Pantech, and anyone else over there across the sea itching to get a piece of the USA market pie. The more, the merrier.