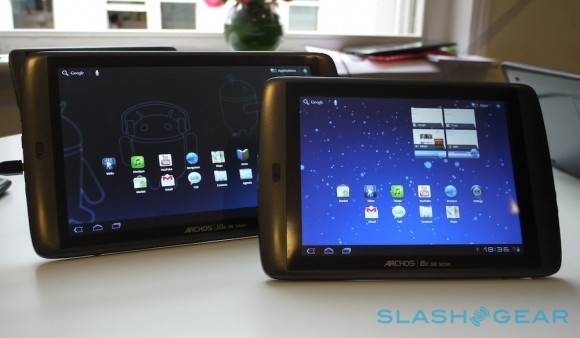 The upcoming Android 3.2 Honeycomb tablets from popular maker Archos are set to finally be available for pre-order soon. The new G9 tablet series was first announced in June, then quickly spotted on video a few days later. New details have confirmed they will both be available for pre-order starting September 20th.
This is the new G9 series offering both the Archos 80 and the 101, one being an 8″ Android 3.2 tablet and the other a 10.1″ standard sized tablet. Our man Chris Davies from SlashGear had some time to check them out and here is our hands-on live coverage. With optional 3G/4G modem stick slots and extended storage up to 250GB in hard drive space these offer both a competitive price, and unique features most tablets don't have to offer.
Both tablets feature dual-core processors and Android 3.2 Honeycomb combined with a slim package and much better viewing angles compared to previous Archos products. The Archos 80 G9 8GB series will start at $299 and is now available for pre-order and the rest should be available shortly at popular online retailers such as Amazon, Newegg, and more starting September 30th. Other model pricing has also been revealed at:
ARCHOS 80 G9 16GB – 1.5 GHz at $329
ARCHOS 80 G9 250GB – 1.5 GHz at $369
ARCHOS 101 G9 16GB – 1.5 GHz at $399
ARCHOS 101 G9 250GB – 1.5 GHz at $469
We will be sure to get some more hands-on with these in the near future and check out all that Archos has to offer.