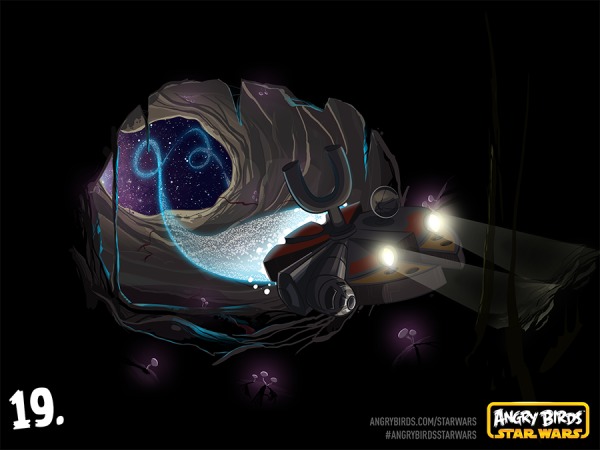 Earlier today we saw the teaser for the upcoming Bad Piggies update, however it looks like that is not the only Android game that Rovio has plans to update. The other is Angry Birds Star Wars and similar to the Bad Piggies update — this one is said to be "coming soon." Hopefully for Star Wars fans, soon means sometime in the next few days.
The Star Wars teaser included the image you see above along with the mention of "Escape from Hoth." Of course, this seems like a natural follow-up to the Hoth update that arrived back towards the end of November. Rovio shared these bits along with the question; What will the birds find at the end of this tunnel?
As for the tunnel, those familiar with Star Wars will likely recognize it as the one where they hide while trying to escape from the Imperial Fleet. The question remains though, how will this all tie-in with the Angry Birds game. If nothing else, the pic that Rovio opted to share, showing the Millenium Falcon in the cave does leave us wanting more. But then, that was likely the point.
Anyway, if you have yet to play Angry Birds Star Wars, given a new update is coming — now is a good a time as any to begin the journey. Similar to other Rovio releases, the Star Wars edition of Angry Birds is available in a regular and HD version. The regular version is available for free and the HD version is priced at $2.99.
[via SlashGear]