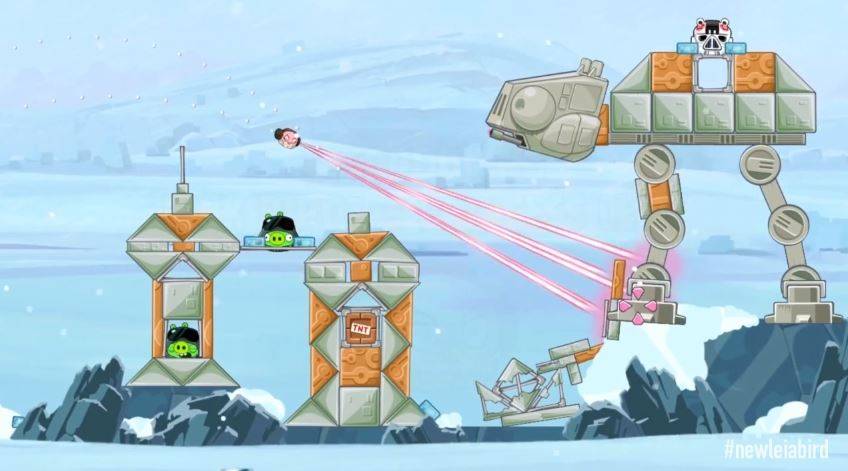 Yesterday, we learned that Rovio was primed and ready to release the first major update to Angry Birds Star Wars. This new update adds a number of new levels set on the ice planet Hoth, along with a new character in the Princess Leia bird (who is really just Pink Bird all dressed up). Even better is the fact that this update is available right this minute.
Another perk of the update releasing today: we finally get to see some gameplay footage. When the update was announced yesterday, all we got is a teaser trailer featuring footage from The Empire Strikes Back. Today's trailer isn't much longer, but at least we get to see how some of the Hoth levels will play out, with our fearless bird heroes taking down all manner of Imperial structures, from probe droids to AT-AT walkers and even a Star Destroyer or two.
In all, there are 20 new levels to work your way through in this update, adding significantly to the levels found in the Tatooine and Death Star segments of the game. As well, the Princess Leia bird brings a whole new power to the table: eye lasers. Yes, you heard right, we said "eye lasers." Princess Leia can apparently shoot a ton of powerful lasers from her eyes, which is something we don't remember being in the movie but are just going to roll with anyway.
The Angry Birds Star Wars Hoth update is available right now from the Google Play Store [download link], but if you're on the fence when it comes to the game, you can check out the trailer above to get a feel for how it plays. It probably won't be long before we're hearing about the next Angry Birds Star Wars update, so three-star all of those levels fast. Check out our timeline below for more information on Angry Birds Star Wars.