You know how all the bigtime Android iterations are named after desserts? Do you also see how the titles of these deserts have been released in alphabetical order? These Android titles go like so: Cupcake, Donut, Eclair, Froyo, Gingerbread, and Honeycomb. This last version is the first tablet-specific version of Android and should, based on what we know at the moment, be considered as being developed aside from the main Android bloodline. That said, the next version's name has been "leaked" by a Google developer by the name of Romain Guy: Ice Cream Sandwich.
See, I TOLD YOU man, I TOLD YOU. Actually Andy Rubin told you (sort of) back in January of this year in a conversation with Jason Kincaid. Have a look at that old post and continue on to the following: a code issue inside the subject of Gradients in Honeycomb. In this short and sweet conversation, official Android worker Romain Guy notes the following: "A bug fix will be provided in Ice Cream Sandwich."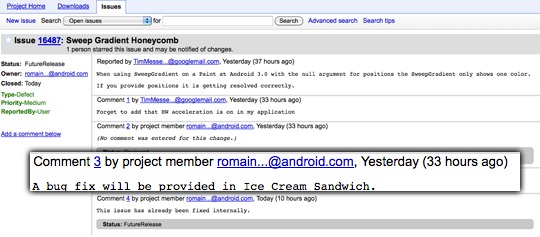 This changes everything! Actually it doesn't really change anything, but it's fun to know that the version of Android that will make some big strides to combine both versions of Android now has a sandwichy name. As Eric Schmidt said back at Mobile World Congress 2011: "We have OS called gingerbread for phones, we have an OS being previewed now for tablets called Honeycomb. The two of them… you can imagine the follow up will start with an I, be named after dessert, and will combine these two."
Tasty enough? Totally tasty. Then of course there's the most empirical evidence of all: if there were to be a giant Froyo sculpture out in front of the Googleplex and there were to be a giant dish of Ice Cream, there would be some confusion. If the Ice Cream is a big sandwich instead, all of that confusion just melts away like the tasty, tasty treat it is. ALSO, the hero image in this post comes from Google circa 2006. Still yummy.
[via TIMN]