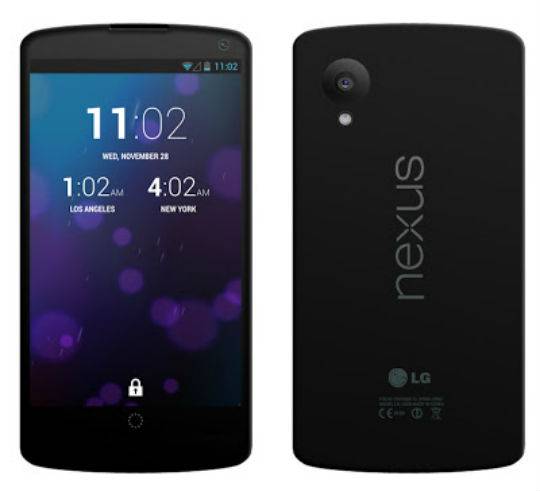 If you're the type who enjoys a good mystery novel — and happens to be an Android fan — October must be like heaven for you. All the twists, turns, and innuendo floating around could make for a really good, trashy novella. When is Android 4.4 coming out? What does the Nexus 5 look like?

More to the point, why are we so worked up about it? A new round of speculation now insists Android 4.4 (and thus, the Nexus 5) will come out on October 28th. According to CNET, a few new Kit Kat images posted to their Twitter page suggest we'll see the newest flavor (pun, indeed) that day, and it's because of the launch date for the songs they appear to be referencing.
First, an "Everybody Dance Now" image was posted, with our Juan Carlos Torres having a little fun and picking up on the artist and day the song came out. From there, CNET dug a little deeper, and found the original name of the artist (C+C Music Factory, originally "The 28th Street Crew") coincided with another image.
The second image, which spells out "This Is It" with Kit Kat bars, is a movie by Michael Jackson, which launched on — you guessed it — October 28th. The 28th Street Crew, and a movie released on October 28th… it's all too tasty (pun, again).
At this point, we're grasping. Even if this is all some rouse by Google and Nestle to work us into a frenzy, the Nexus 5 will launch when it launches, and the only people that really need to worry about Android 4.4 are Nexus owners, and they'll get the update nearly immediately. We can expect the Nexus 5 launch to be a debacle of Google Wallet proportions, with dropped transactions and emptied carts — just like the Nexus 4 launch.
It's nice to have a little fun, and poke around to see if things have meaning, but we've jumped the shark. At this point, we're discussing Android 4.4 and the Nexus 5 like it's The DaVinci Code, and we'll somehow find deeper meaning to it all. We won't. We'll get a great new phone, at a price that probably undercuts the rest. Android 4.4 looks like it will have a host of great new features, but will you even see it on the device you have?
We can say "take it with a grain of salt", and you should, but let's also stop trying so hard. The number 28 is the sum of the first five prime numbers, but that doesn't hint at a Nexus 5. It's also four touchdowns with extra points, but that doesn't suggest we'll see a Nexus 4 with LTE. It's either really amazing marketing, or a lot of obscure coincidence. Whatever the case, we still don't have either, and that's what really matters.