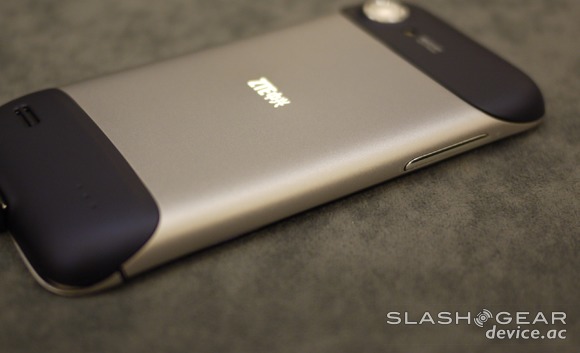 ZTE is making a splash at Mobile World Congress thanks to a wide collection of smartphones – most of which have been announced in name only. One exception is the new Era, the Chinese OEM's highest-end smartphone due out some time in the next few months. We made a point of seeking out the Era for its take on the quad-core smartphone, since everyone and their parent company seems t have on to show off. Like most of its contemporaries, the ZTE Era uses Nvidia's Tegra 3 processor in its new 4-Plus-1 incarnation.
We won't mince words here: the ergonomics of the Era are fabulous, easily meeting or beating any new phone at the show. The curved back definetely has a lot in common with HTC's new One series – a bit of convergent gadget evolution. A segmented desihn is capped at the top and bottom of the phone with plastic inserts for access to the  the SIM card and to allow space for wireless signals to carry. The best way to describe it is a sort of flattened bone shape, and it feels great.
The specifications are impressive, but considering the other phones here at the show, they don't wow us like they might have a few months ago. The screen is a 4.3-inch TFT qHD panel, not the best that we've seen, but as much as you need for the size. Android 4.0 seems to have been left alone for the most part, though the standard four Android buttons seem to indicate that this model was running Gingerbread at some point. An 8MP rear shooter compliments DLNA, HDMI-out via an MHL adapter and Dolby sound for some serious media chops.
ZTE says that the Era will be released in HSPA+ form some time in the second quarter. While there's no word on where it'll land first or with what carrier, the combination of high-grade components and ergonomics with ZTE's budget reputation should make it an attractive option for carriers and consumers. For more coverage (including the ZTE Mimosa X) check our Mobile World Congress portal.