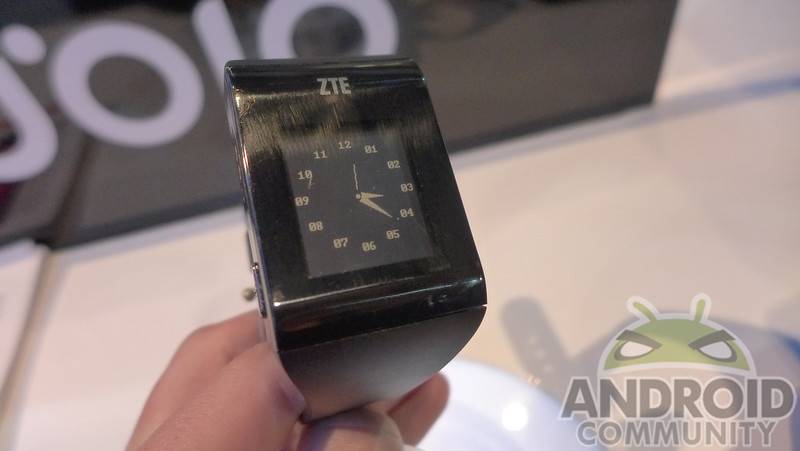 ZTE did a bit of pre-CES teasing so we knew some of what they were planning to unveil. They had a new smartphone, and phablet as well as their entry into the wearable space. The ZTE wearable is a smartwatch and it is called the BlueWatch. We made sure to head over to the ZTE booth to spend a few minutes playing and were greeted with somewhat of a clunky and Pebble-like design.
To that point, we should make it clear the hardware could change a bit. While not describing this as a prototype model, ZTE reps did say the design could have some slight differences by the time it is available for purchase. Looking at the front of the watch and we see a 1.26-inch display with a resolution of 144 x 168.
Otherwise, the watch has a four-button setup with a magnetic charging attachment. The charging port and the power button are on the right side of the watch and the remaining three buttons are on the left side. Again, things may change, but for now the buttons seemed somewhat responsive.
Things weren't instant in terms of button presses, however we can likely chalk that up to this being non-final hardware or the fact that countless people have picked it up and played as it was sitting open on the CES show floor. Overall, we saw lots of similarities to the Pebble here. The ZTE BlueWatch just didn't seem as streamlined as the corners were a bit squared off.
Other key specs for the BlueWatch include Bluetooth 3.0 and 4.0+EDR, a 235 mAh battery, 32-bit ARM Cortex-M3 processor and 128KB of RAM with 1024KB of internal flash. As far as the functionality, this is similar to other smartwatches and include notifications for incoming calls, messages and email as well as Facebook, Twitter, calendar and the weather. The ZTE BlueWatch will also have Find My Phone functionality.