It looks like ZTE made good on their word that their cost-friendly flagship smartphone beater – the ZTE Axon – would be available in the US market by August 1, as the phone is now indeed available not just via ZTE's online store, but also via Amazon, Newegg and eBay. The ZTE Axon is interesting because it puts together a pretty robust and leading edge list of specs, while keeping the price below USD$500.
What we're actually getting is the ZTE Axon Pro – the caveat is that it is slightly different from the ZTE Axon Lux that launched in China, ZTE's home market. We think it is a way of showing loyalty to the home market, which is typically what Asian manufacturer's do – LG, Samsung, and HTC have all done this at one time or another, that is release slightly different models of their flagships in their home market, with slightly different and better specs. The US market will not be getting the triple biometrics of the ZTE Axon Lux model – no fingerprint scanning on this one, and the marketing materials do not mention the voice recognition or eye-scan security.
That said, for USD$450 off contract, you are still getting top of the line specs – a 5.5-inch QuadHD (2560×1440) display powered by an octa-core Qualcomm Snapdragon 810 processor, ably supported by 4GB RAM and 32GB internal storage. There is no microSD expansion, but for those specs, we can live with that. ZTE also included the new ion-infused antimicrobial Corning Gorilla Glass 3, and a dual-lens camera at the back.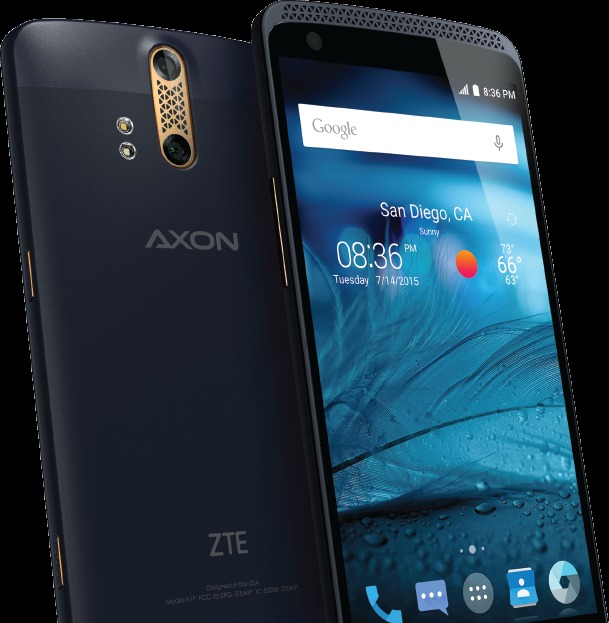 ZTE is also hyping its audio processing chip, which processes sound in 32-bit rather than the normal 24-bit of other devices. They claim that it produces way better sound quality, which in theory, should be the case. The package even includes some rockin' JBL earphones to make sure you notice the sound quality. Lastly, the ZTE Axon Pro will feature Qualcomm's Quick Charge 2.0 to help keep the 3,000mAh battery topped up. The phone is available in white, gold, or blue, although you may have to check the online retail sites to check which colors are available. The ZTE store may be your best shot at getting anything other than the blue model. The phone is versatile enough to run on T-Mobile and AT&T's GSM and LTE networks.
RETAIL: ZTE USA / Amazon / Newegg / Ebay