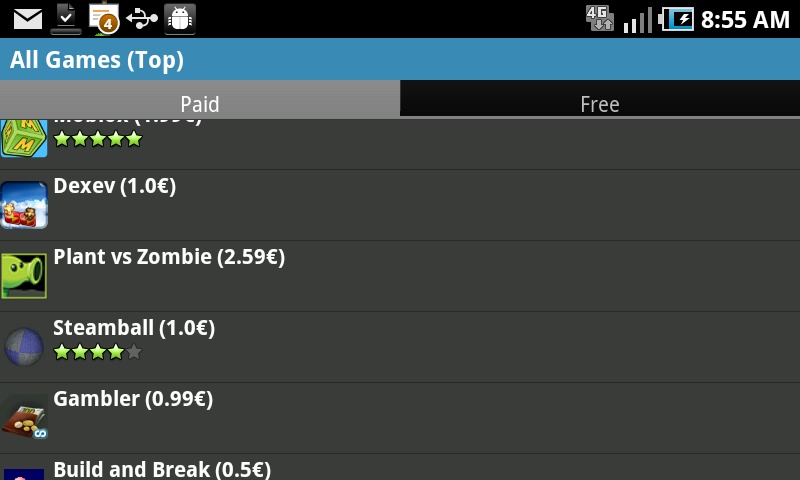 Perhaps you're aware of the current oddity happening inside the Android environment as far as app stores go? No? Lemme explain real quick. First, there's the Android Marketplace. This is the market that you see on most Android-based phones you'll be purchasing from USA-based mobile carriers. Manufacturers must go through a process to get Google Approved to be able to have this market on their device. Then there's alternate markets, the most notable one of late being the Amazon App Store. No market, until now, has been able to give the developers of the apps 100% of the profit earned via the sales of apps – YAAM fills that gap.
YAAM is an Android app sales market that was created by a member of XDA Developers, a website dedicated to mobile phone operating systems like Android and Windows Phone 7, and their developers. YAAM stands for Yet Another Android Market, and it certainly doesn't have the same zazz in aesthetics that Google or Amazon's markets to, but it does have 100% profit share. That matters so very much, my eyeballs are about to fall out.
There's currently what the creator says are 23,000 users using this new market which contains 400 applications. Another fantastically important element in play is the ability to use PayPal to purchase apps. I cannot express enough how powerful this could be, as one of the major reasons people do not trust the Google market is its checkout system. Amazon came around the corner to offer their trusted services, but again, they don't have 100% profit sharing.
They're not quite completely set up to go yet, in my opinion, per the following statement by the creators:
Paid applications are managed this way : You have a YAAM account, you send money on this account (via paypal, allopass, etc…), and you use this money into the application, to buy applications. In that way, you can easily manage your consommation…
We are surely going to create an enterprise, to manage this money legally !
But we're pretty pumped up at the possibilities!
[via XDA Developers]