The Nexus 4 has been slowly coming back to an available status. Here in the US we saw inventory arrive with T-Mobile earlier in the month and that was followed with Best Buy last evening and Google Play earlier today. There is still some question as to whether the inventory issues are because LG is not making enough or because Google is selling them in mass quantities. That said, given the reaction and excitement about the handset being available — it is clear that the Nexus 4 is a device that people want.
While opinions will vary, we see quite a few perks with the Nexus 4. These include a nice display, a good looking exterior, fair contract-free pricing and perhaps key for some, the speedy Android updates. Along with the contract-free pricing comes another perk — the ability to choose your carrier. Here in the US you can take your Nexus 4 to AT&T or T-Mobile as well as StraightTalk. And yes, we realize that StraightTalk uses those same networks, however they do offer some compelling plans including an unlimited option for $45 per month and an unlimited with international option for $60 per month. Lets put the talk of carrier and plans aside though, because truly, that is just one reason why the Nexus 4 is an interesting device.
In the case of the display, just looking at the numbers and we know that it is 4.7-inches with a resolution of 1280 x 768 and the protection of Corning Gorilla Glass 2. The display also extends to the side edges and is curved in a way that has is sloping slightly down. This seems to make it a bit nicer in the hand and good for those times when a side-to-side gesture is needed. The exterior of the phone seems to be the one point that people either love or hate. Speaking personally, the sparkle design is rather nice looking. Certainly not nice enough to convince me to buy a Nexus 4 on that point alone, but a perk that plays in nicely with the other strengths. As you can see in the images included in this post, that sparkle extends over to the sides as well.
Touching on the price. You cannot really beat $299 (8GB) or $349 (16GB). In fact, these prices as so attractive that we would argue the $199 on a two-year agreement price point seems high. After all, take the Galaxy S III for comparison, the 16GB sells for $199 on a two-year agreement and would cost several hundred more off-contract. It almost seems T-Mobile should be offering the Nexus 4 for $99, or lower for those willing to make a two-year commitment. Of course, if you are going to make a two-year commitment to an Android device — the Nexus 4 is about a good an option as any considering it is more likely to get updates.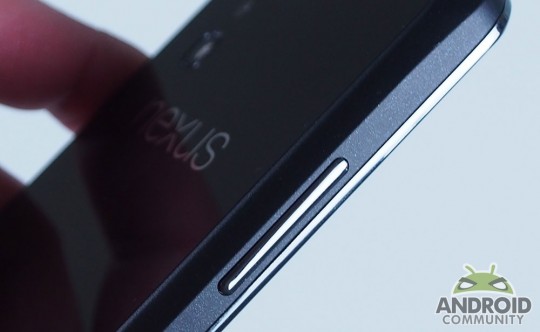 Which brings us to the next point — those speedy updates. In the case of the Nexus 4 (and other Nexus devices), you will get those updates first. And fast. The one drawback to that is sometimes there may be a bug, but again, Google seems quick to fix even those issues. To sum this up, with the Nexus 4 you get a solid display, low purchase price, the ability to choose a carrier and regular updates. Sure, you can sometimes choose a carrier with other phones. Bringing back the Galaxy S III example, that handset is available with a wide variety, but it also comes with a contract which means switching between carriers would be an issue. Not that we suspect many go this route, but you could get a Nexus 4 and jump between carriers on a monthly basis.
All the good does however come some drawbacks. For one, the phone is on the fragile side and some care is required. There is also the lack of 4G LTE, which for some is a turn off. As for me, I would argue that at this point in time, it can easily be lived without. Sure, the faster speeds are nice, however when bouncing between areas where you have, and do not have LTE, that can mean a hit on battery life. Plus, for regular use such as web surfing, email, messaging and social networking — 3G speeds are generally more than enough. Heck, even when it comes to streaming music, 3G speeds are generally more than acceptable. The only catch with not having 4G LTE, one could argue that a two-year agreement on a 3G phone would not be the smartest move at this point. But then again, that is one of the main perks of the Nexus 4 — the ability to buy it for a relatively low contract-free price.
We have shared a few of the reasons why we think the Nexus 4 is such an attractive option, but we would like to hear from you. Go ahead, fire off in the comments and let us know why you think the Nexus 4 is a good smartphone. Or if you feel otherwise, feel free to share those comments as well.
[device id=3766]