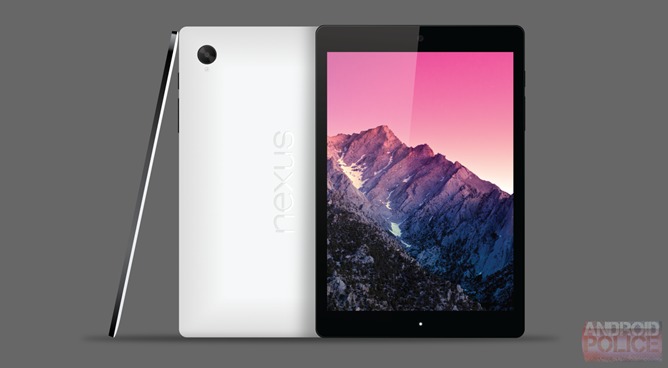 It's been a while since a Google-approved Nexus device hit the market, so speculation is rife if indeed we are going to get our hands on one by the time Google I/O developer conference rolls in. Front and center is HTC's rumored Volantis, and Android Police is betting on solid information that it has the specs and the build of the next Nexus device down pat.
There was speculation on whether the new Nexus device – initially code named "flounder" – would be a smartphone. But all evidence now points to an 8.9-inch tablet to be manufactured by HTC, known internally in its hallowed manufacturing halls as the Nexus 9. Although a number of things could still change with the marketing name and the possible specs of the product, Android Police deems the source pretty solid – enough to publish the leaked images and the possible specs.
The Volantis will be bannered by a 2048×1440 (281ppi) display powered by an NVIDIA Tegra K1 processor (also known as the Logan 64-bit chip). According to the leaked image, it will have a 2GB RAM allocation, an 8MP main camera partnered by a 3MP front-facing camera, and frontal speakers as well. The rumored specs include variants of the tablet in 16GB and 32GB internal storage models, and might also come with options for LTE connectivity.
Also very conspicuous in the image is what HTC calls "aluminum zero gap" construction. In fact, we agree that the unit takes its aesthetic cues from the iPad Mini, with hints of LG's Nexus 5 and ASUS's Nexus 7. Again, all of this may still be technically touted as rumors, but the source is apparently adamant that the hardware for the tablet already exists in the real world, going as far as to say that some of the people working at Google are already carrying the device around. What do you guys think of it?
VIA: Android Police