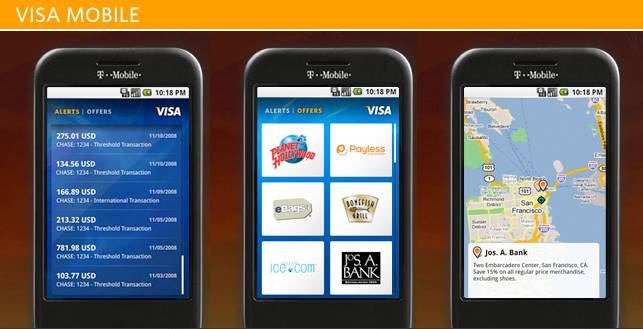 Back in September we reported that the Visa Mobile Application was being created as the first financial application for Android. It has been a while but they managed to push it to the Android Market in hopes that it would get some use for the holiday season.
With the Visa Mobile Application you can track your card transactions as they happen, to better keep track of your own expenses. With alerts you will know instantly when someone else is using your credit card. This feature is a must in today's world with all of the credit card and identity fraud going on. If you delete this application you must text the word "STOP" to MVISA in order to discontinue text notifications.
This application also gives you many special coupon offers both online and on your handset. Visa Mobile Application even gives you location information where you can redeem offers. As with most Visa services there is always the fine print to watch out for. If you tear through the Terms of Service you will find one very unassuming line that could very well make you turn around and never look back. This line reads, "unfortunately, no data transmission via a mobile handset can be guaranteed to be 100% secure." It just sound to me like Visa is trying to keep them selves from any liability T-Mobile may place on them due to security issues.