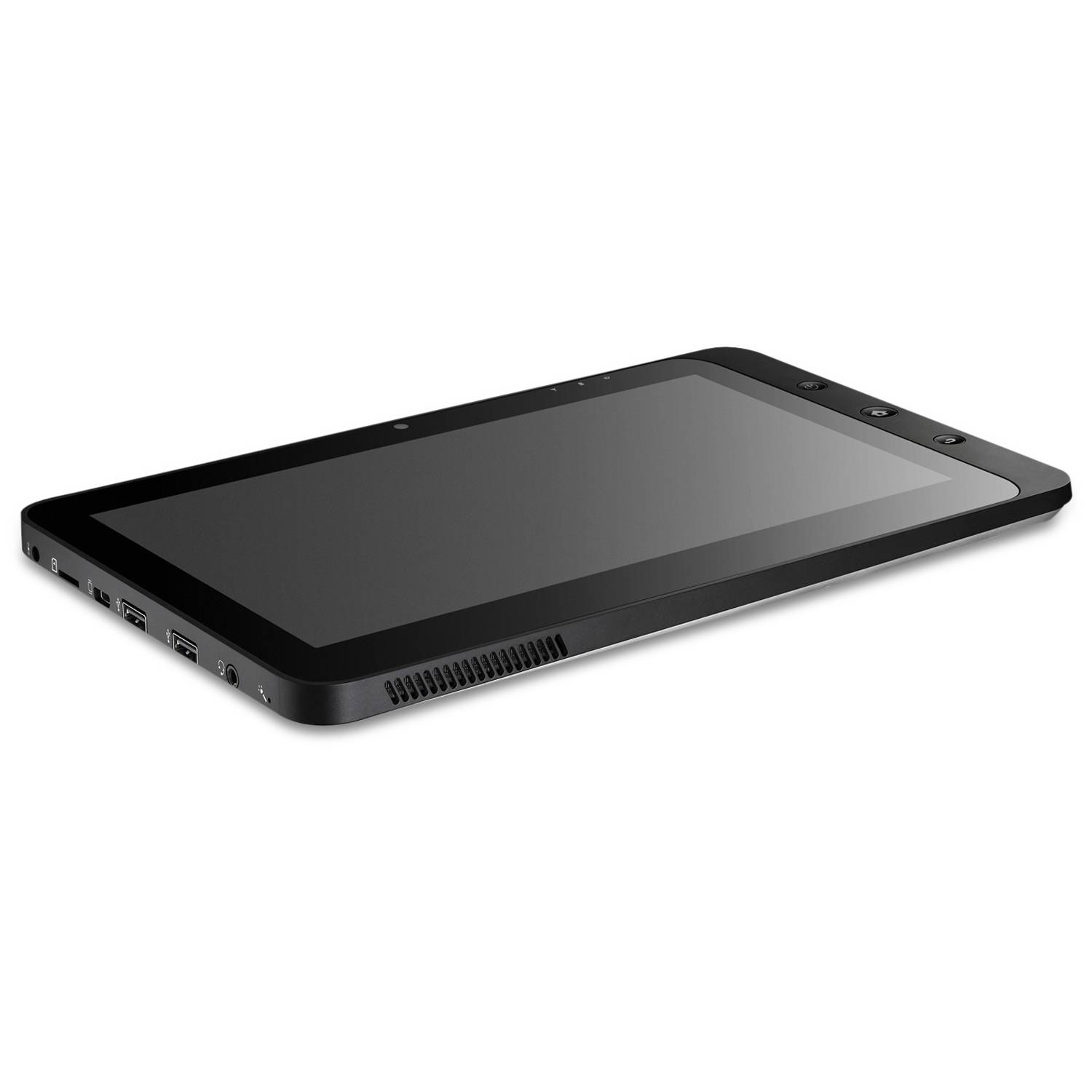 Behold the ViewSonic ViewPad 10 dual-boot tablet that allows you to work in either Android 1.6 (weird!) or Windows 7 on demand. This device runs a 10-inch 1024 x 600-pixel touchscreen display, 1.66GHz Intel Atom processor, has a total of 2GB of memory, connects via Wi-Fi 802.11 b/g/n, Bluetooth 2.1 + EDR, and has a 1.3 megapixel front-facing camera for video chat. The odd thing about this device (if all those specs weren't enough) is that we were introduced to a very similar tablet by the name of ViewPad 10 Pro, one that ran Android 2.2 Froyo, at Mobile World Congress 2011.
Another odd bit is that we were told that the "Pro" would be running Android 2.2, and that this "Pro" version would replace the ViewPad 10. THEN he said that the ViewPad 10 would be sent an OTA update to Android 2.2 Froyo in March (aka now) to update it to the level of the Pro, which should also be released on March. What in the world? Either we're just losing our minds, or ViewSonic really needs to differentiate their model numbers with more than a letter of a number.
https://www.youtube.com/watch?v=unczooD0e9A
That said, having the ability to boot to either Windows or Android in one device does seem fun, if not unnecessary. In our experience, working with a tablet means you've got a certain number of things you want to accomplish, thus you pick the one that'll accomplish them. Having two systems on one single tablet to us seems indecisive.
ViewSonic Delivers the Best of Both Worlds With Immediate Availability of Its ViewPad® 10 Tablet
10.1″ Dual-Boot Tablet Brings to Customers a New Level of Convenience

WALNUT, CA–(Marketwire – March 7, 2011) – ViewSonic Corp., a leading global provider of computing, consumer electronics and communications solutions, today announced North American availability of the ViewPad 10. Giving users a choice between Windows® 7 and Google Android™ within the same device, this 10.1″ dual-boot tablet is ideal for maximizing business productivity alongside entertainment.

"The lines of professional and personal life are blurring, which creates a need for devices that are suited for both sides," said Adam Hanin, vice president of marketing for ViewSonic Americas. "The ViewPad 10 delivers just that by enabling users to merge business productivity with personal enjoyment anywhere, anytime. We are proud of our 10-year tablet history and are dedicated to further extending our tablet product portfolio to meet every individual need."
Packed with a high speed Intel® Atom™ 1.66GHz processor and integrated 2GB of memory, the ViewPad 10 is a powerhouse of mobile computing. Built with a 1024×600 panel with LED backlight technology partnered with capacitive multi-touch functionality, the device provides a crystal clear viewing experience, even when multitasking across several applications.

The ViewPad 10 enables consumers to take Windows on the road, allowing access to Flash-based content and programs like Word, Excel, PowerPoint and Adobe Acrobat, wherever they are. Plus social media applications like Facebook and Twitter, sharing photos and surfing the Web through Google's Android 1.6 platform are only a switch away, making this device the perfect companion for those looking to work, play and share on the go. Throw in the built-in Wi-Fi 802.11 b/g/n, Bluetooth 2.1 + EDR and 1.3 megapixel built-in front camera, the ViewPad 10 is fully optimized to keep users connected.

To ensure the ViewPad 10 grows with each person's individual needs, the device offers expandable memory options via a micro SD card slot for up to 32GB of additional space. The dual-boot ViewPad 10 is now available — with Android 1.6 and either Windows 7 Home Premium (with a 16GB SSD hard drive) or Windows 7 Professional (with a 32GB SSD hard drive) for respective ESPs of $599 and $679.