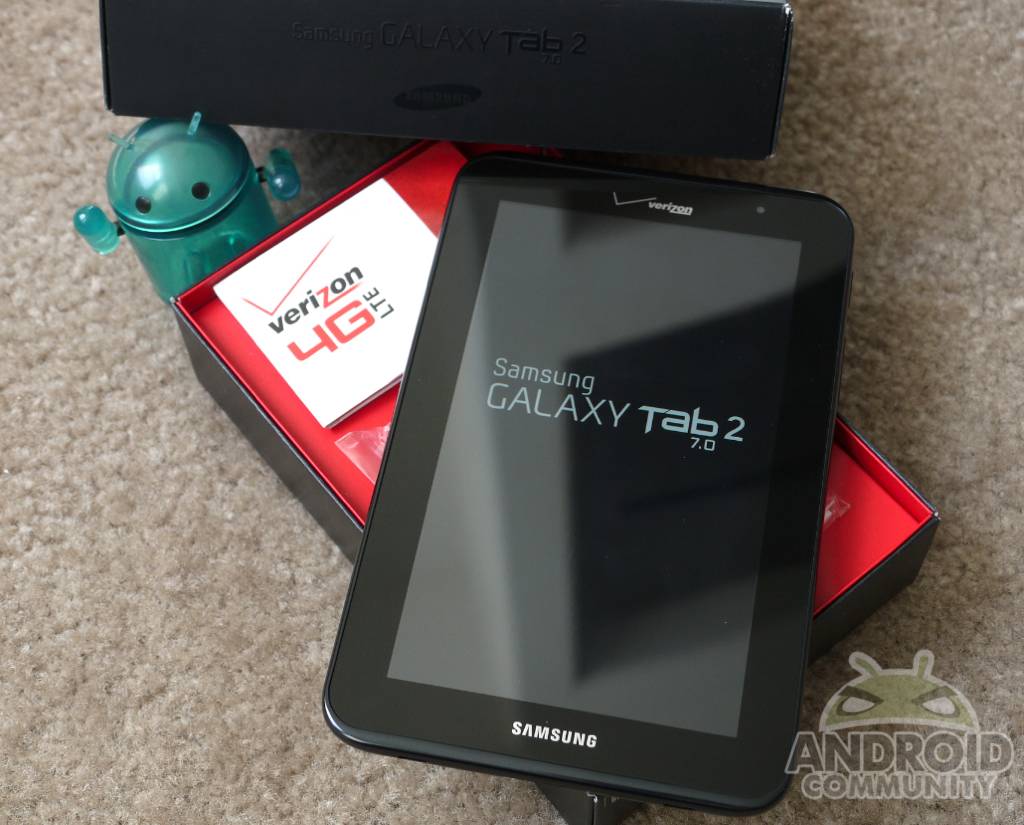 Earlier this month Verizon announced that they'd be adding another 4G LTE tablet to their ever growing lineup, and today we have it in for a quick peek. Say hello to the recently released Samsung Galaxy Tab 2 7.0 with Verizon 4G LTE. This is Samsung's latest budget 7-inch tablet complete with Android 4.0 Ice Cream Sandwich, and now Verizon LTE.
Samsung recently refreshed their tablet lineup with the Galaxy Tab 2 series. Consisting of Android 4.0 Ice Cream Sandwich, their Touch Wiz UX, and a few tweaks from previous models. Essentially you'll be getting the exact same Galaxy Tab 2 7-inch tablet we reviewed a few months ago — only with a different processor. For now take a peek at our hands-on video that should detail it all for you.
Samsung and Verizon have equipped this 7-inch tablet with a mediocre 1024 x 600 resolution display (no 720o here) Android 4.0.4 Ice Cream Sandwich, Touch Wiz UX, and here's where things differ. The processor has been changed from a 1.2 GHz OMAP 4 to the popular Qualcomm Snapdraon 1.2 GHz dual-core chip. This is the older S3, and not an S4 mind you. Then you'll get 1GB of RAM, 8GB of internal storage, and as usual a micro-SD slot for expanded storage up to 32GB. Lastly is that Infra-red blaster to use the tablet as a TV remote.
Then obviously there's one other major difference. That being the inclusion of Verizon 4G LTE which now covers around 75% of the US population and readily available in over 375 US markets nationwide. Other specs include the usual 3.2 megapixel rear camera without flash, and the VGA front for video chatting and those lovely self portraits.
Since we've already reviewed this tablet, and are just giving you an early peek at what we have while you wait for a review we'll toss up a few 4G LTE speedtests to give you an idea of what you'll potentially be working with. As usual Verizon's LTE is fast and stable with us averaging around 10-12 Mbps download and 2-5 up.
This Tab 2 7.0 is Samsung Approved for Enterprise with 256-bit AES encryption and support for Microsoft's Exchange ActiveSync, as well as support for VPNs and MDM solutions. So far our initial impressions are favorable just as they were with the original Tab 2 7-inch tablet. We are really digging the new textured back cover though. It makes it very easy to grip and hold. The Galaxy Tab 2 7-inch might not be the best, fastest, or have the best display but it's portable and low priced. Verizon is asking $349 for the new 4G LTE tablet and you can easily add it right to that Share Everything plan for an extra $10 a month. Head down to your nearest Verizon store and snatch one up today!
[device id=3258]