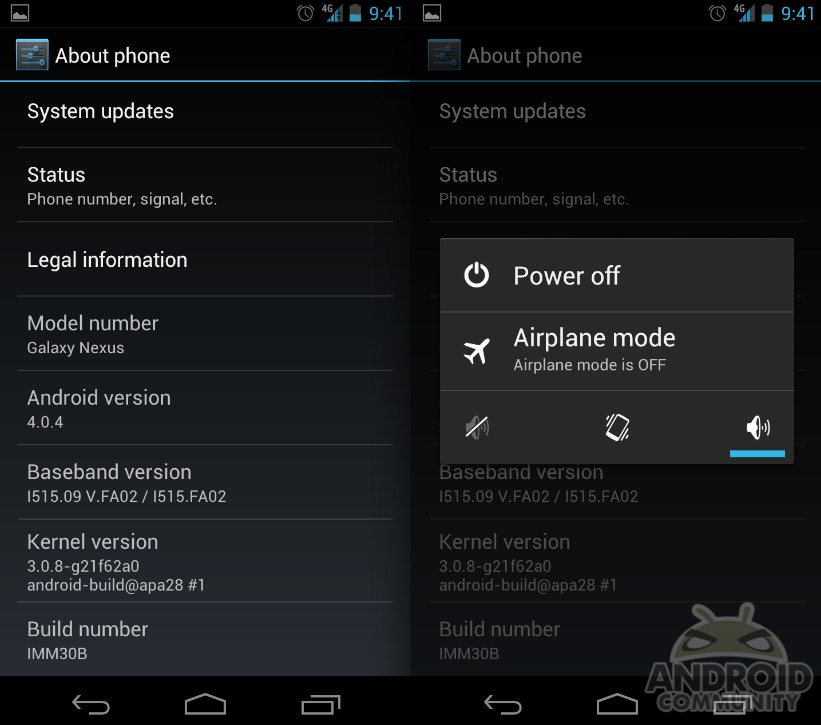 Good news folks, not only did the Giants win the Super Bowl but the Verizon Galaxy Nexus (LTE model) has received a little over the air update to Android 4.0.4 Ice Cream Sandwich this weekend. The update isn't officially rolling out yet, but has hit multiple devices and we have all the details, download links, and changes that we've seen thus far. Check it out below.
As a small reminder this is for the Verizon 4G LTE Galaxy Nexus only for the moment and will not work for the GSM international version. We were all hoping for Android 4.0.3 but this actually brings us to Android 4.0.4 instead. The build is IMM30B and brings with it plenty of changes from what I'm seeing although the update is only 29.2 MB in size.
At the very least they've updated the bootloader and the all important radios. This means they've made some changes and tweaks to the radio in the device. We are seeing much better service, especially with 4G LTE out of the gate. I now get a solid 3 bars of 4G LTE everywhere in my house, before I was lucky to get one. While we continue to look over the update if you'd like to see what all has been changed check out the unofficial change-log.
Now lets get to the good stuff. For those that don't want to wait for the update to start rolling out to all users, you can get it now and give it a go. All the details are provided in the XDA links below but I'll also toss in the ClockWorkMod instructions as that is what was easiest for me.
Verizon Galaxy Nexus Android 4.0.4 — Download link
ClockWorkMod Instructions:
*Update will break root, but can easily be restored
— Download file from the link above
— Be running stock Android 4.0.2 (ICL53F) (stock radios and all)
— Rename to update.zip if you'd like (not needed for CWM)
— Reboot into CWM Recovery
— Choose "install zip from SD card"
— Find file, flash, reboot, enjoy that 4.0.4 flavored Ice Cream Sandwich
You can root using the original methods or just do what I did — try OTA RootKeeper from the Android Market. It backs up the root, and restores after the OTA. (Worked perfect here)
For those using stock recovery the standard update.zip process did not work for me, if you have better luck feel free to share the details in the comments below. Enjoy!
[device id=2091]