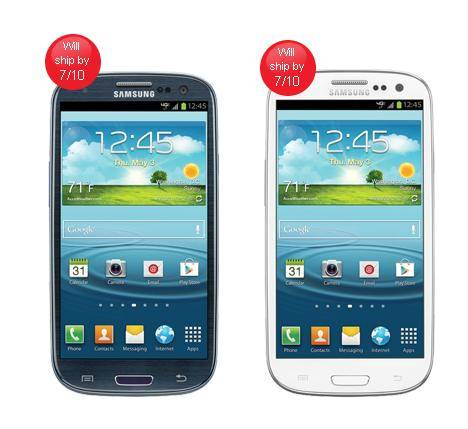 Samsung's brand new flagship Galaxy S III smartphone will be in the hands of hundreds and thousands of buyers starting late next week – except for those on Verizon. T-Mobile and AT&T are pushing their phones out around June 21st but Verizon has opted to wait until the second week of July. Today we can confirm they've pushed the date back, but only by a day so it isn't too big of a deal.
Verizon opened up their pre-order lines starting on June 6th, and we've heard a a few rumors suggesting a June 28th availability date, or even June 5th. Yesterday though Verizon confirmed the July 10th date with the image you see above. Posting on their site that pre-orders should ship in time to arrive on the 10th. Verizon usually releases phones on Thursdays but getting it two days earlier on Tuesday should make plenty of buyers happy.
We know it's only a day but after their page originally said the 9th we wonder why they changed it two weeks later. Maybe they've had a large number of pre-orders and will need additional time to fill the orders. The phone is quite amazing and you can see our review and plenty of coverage in the timeline below. Verizon will also be making their SGSIII global capable so you can use it while roaming overseas. Cool huh? Did you order the Galaxy S III from Verizon and are you excited to get it? Does the extra day bother you?
[device id=2688]
[via Pocket Now]