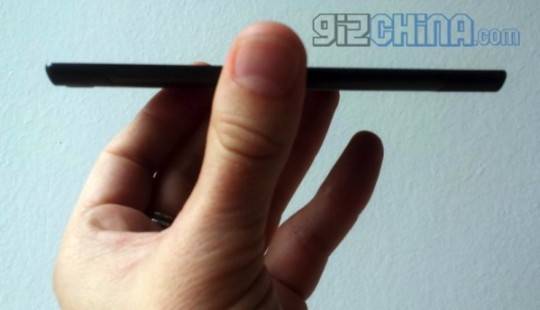 As expected, manufacturers and tech companies are lining up for their share of the spotlight at the upcoming IFA trade show in Berlin next month. The latest to join the fray is a relatively unknown Chinese manufacturer who is expected to unveil the world's thinnest smartphone: the Umeox X5.
Umeox started appearing on our radars last May when we heard about this latest attempt to bag the ever elusive title of "world's thinnest smartphone". The current title holder is Huawei with its Ascend P6, which is just 6.18 mm thick. The Vivo X3, which is tipped to launch later later this month, is trying to claim that title at 6 mm flat. The Umeox X5, then, is definitely a contender as rumors put it at a thickness of 5.6 mm. That's thinner than even a pencil!
Aside from that, there are no other details to go on with the X5. It is said to be coming with a 4-inch display and powered by a MediaTek chip. It is also rumored to have dual 5 megapixel cameras. Anyone that's interested to find out if the X5 will outmatch the Ascend P6 in other aspects will just have to wait for the first week of September when the device is finally unveiled under the Thomson brand.
There will come a time when this race will start to become impractical unless sturdier or more flexible materials are developed. Truth be told, we'd probably prefer a device with a decent battery and one we'd not be too worried about breaking in our pockets. But then again, the way phone sizes are trending, maybe no one's expected to put phones in their pockets anymore.
VIA: Gizchina