Welcome to the Toshiba Thrive (aka the Toshiba THRiVE if you believe the box's interpretation of it.) This is a tablet we've been talking about since early 2010, a tablet of some legend – one that was said to possibly be the hero device for Honeycomb, then the hero device for Google to be giving away at their Google I/O conference this spring! But alas, none of that came true, and here we are with the thickest and possibly the heaviest tablet in the whole Android bunch. Will fun features such as a replaceable back panel and ports galore save this device from "it's not thin enough" fever?
Before we begin, let's have a look at the unboxing and hands-on of this device performed again by yours truly. This tablet comes in a rather nice box and is certainly made to be sitting on the shelves looking healthy AND is amongst the elite group of Best Buy displayed tablets in their new tablets area – have a look:
[vms 998f515a72dd730294d8]
Hardware
There's buttons and ports galore, the ports spoken about in this review down in the Connectivity and Battery section, then there's the following: a lock at the top on the camera side that'll allow you to let loose the back removable cover, a lock that'll stop your screen from rotating, volume up/down, power button, two lovely speakers at the bottom of the device when held in landscape mode, three LED lights showing power, Wi-Fi connectivity, and battery, a 2-megapixel camera on the front, and a 5-megapixel camera on the back.
The battery cover, aka the entire back of the device, is swappable for many different colors which you'll be glad to know only cost $20 each. You can choose from Silvery Sky, Blue Moon, Raspberry Fusion, Lavender Bliss, and Green Apple. Under the battery cover is one gigantic monster of a white battery that we speak more about in the Connectivity and Battery section below. With this battery and the full sized ports galore, plus the fact that this tablet has been in production (or at least in the works) since early last year all adds up to this tablet being thick. It's 0.62 inches thick, that being twice as thick as the thinnest tablets on the market – iPad 2 and Galaxy Tab 10.1, weighing in at 1.66 pounds, basically the same as the Motorola XOOM.
Your display here is a 1280 x 800 resolution IPS LCD with a 16:10 aspect ratio, making it narrower than most other tablets. Certainly not made for outdoors viewing but doable, looking fabulous inside with perfectly wide viewing angles all around. This tablet isn't made to be held with one hand and tapped with the other, that is of course unless you've got very big hands or very long fingers. Should you have a surface to place it upon like a leg or a table OR if you just want to hold it with two hands like a normal person, you'll be good to go.
The Thrive has a 1GHz NVIDIA Tegra 2 dual-core processor with 1GB or RAM and a choice of onboard flash memory: 8GB, 16GB, and 32GB. The full-sized SD card slot on the side of the device supports SD, SDHC, and SDXC, meaning storage is expandable by up to 128GB. You'll be rolling out with cameras similar to the XOOM at 2-megapixels and 5-megapixels but you'll be without a flash on the back so no dark night photos for you!
Software and Performance
The Toshiba Thrive is the first tablet to come with Android 3.1 Honeycomb right out of the box, many other devices still popping out with 3.0 needing an over the air update directly, this meaning that when Android 3.2 Honeycomb comes out (sometime in the next few weeks we expect) you'll be right up there at the top for updates. The Thrive comes packed with your usual Google set of apps including maps, the Android Market, and Gmail, but surprises you with a full suite of Tegra 2 specific card games for instant fun.
Beyond that, it's a rather vanilla look, again, at Honeycomb. It's been a strange occurrence in the release of Android tablets since Honeycomb was released in that this has been the primary norm: vanilla. This means, for those unaware, that the tablets are running Android in exactly the same (or a very similar) way to how Google intended it, not an overlay in sight.
Then that NVIDIA Tegra 2 dual-core processor is humming underneath. You know the power, and you love it. Have a look at some benchmarks to refresh your memory on the power of this super system: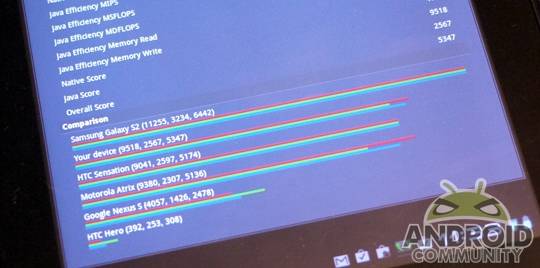 CF-Bench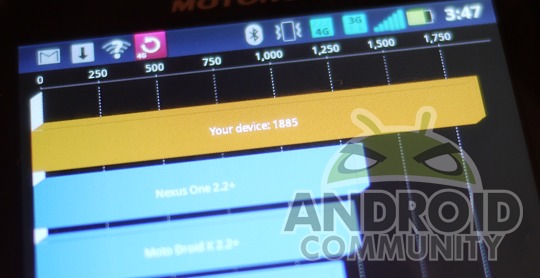 Quadrant
Smartbench 2011

Linpack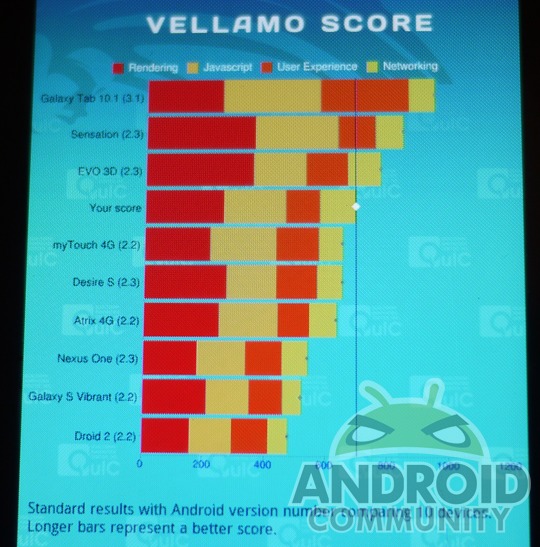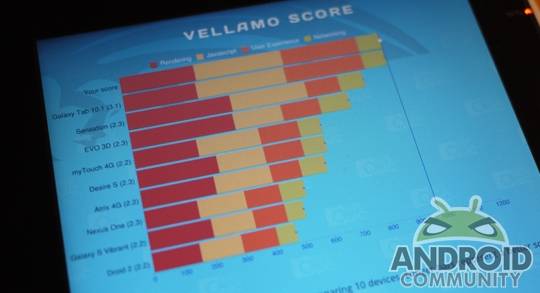 Vellamo
For more information on Vellamo, head to our hands-on post.
Connectivity and Battery
The Toshiba Thrive has ports galore, more and more impressive are the ways you can connect with this device each time you turn it around in your hands. Be sure to pop the covers off or you'd never find them: a full sized HDMI port, a full sized USB 2.0 port, an odd mini USB port (odd for 2011, that is,) headphone jack, power jack, full sized SD card port, and a docking port. This means you could potentially have five wires hanging out of this device at once: USB port for a video game controller, headphone jack for a 3rd party speaker system, power for power, mini USB for accessing your desktop's files, and HDMI for running the whole show on a big screen HD TV! What fun you could have!
Then there's the battery. Once you pop off the back (having released the cover lock at the top of the tablet of course) you'll find that there's one gigantic battery sitting in there. It's a magnificently large 2030 mAh Toshiba battery that's rated for 11 hours straight. Should you be using it pretty hard though, like we've done, you'll get somewhere between 5 and 7 hours max. Standby time is, like most Android tablets today, basically a week – crazy stuff! Also note that even if you don't have you battery plugged in, if the device is plugged in with your power cord, you're good to go.
Camera
Again we've got a 2-megapixel camera on the front and a 5-megapixel camera on the back capable of 720p recording. Have a look at some examples of what you might be seeing when you start this camera up:
Front-facing Photo
Back-facing Photo
Wrap-Up
This tablet is up for sale for you for one of the following prices: $429.99, $479.99, or $579.99 – the difference between these three being the hard drive of 8GB, 16GB, or 32GB. That's all at Best Buy, the first place we ever saw this tablet advertised. Now whether or not you want to go out and purchase it is up to you, but we offer this advice: go into the Best Buy and try the Toshiba Thrive out. You can get a full hands-on there as well as a hands-on with basically every other Android tablet on the market today. No other store has this opportunity so we suggest you take it now and take it at Best Buy.
Would that this tablet were released first, that is if it were chosen as Google's hero device for Honeycomb instead of the XOOM, it would be much more famous and very much more desirable. As it stands today, the positives are very close to tied with the negatives. You've got ports galore, and certainly this is an entertainment machine to be appreciated, but it's fat. It's not the prettiest tablet in the world, but you can put on alternate covers. It's not light, but it's not meant to be.
The Toshiba Thrive is certainly unique, and options are its speciality. Grab it now or forever hold your cords in your drawers.
[device id=567]