Note-taking, article-writing, journalling, and blogging have all taken different forms. You can just call them writing collectively but whatever kind you're doing as long as it involves recording one's experiences, reflections, or transactions, that's called journalling. It's usually done more regularly and as the mobile industry continues to advance, expect more digital tools to replace your pen and paper.
When was the last time you asked for a paper or brought a notebook and pen with you? The digital age has totally changed our lifestyle. Even professional writers, authors, and editors have accepted the fact the kind of  journalling and writing in in this digital age must be embraced.
There are probably hundreds to dozens of note-taking apps available on the Google Play Store and other app markets but there are a few that have proven to be very useful. We've tried a number already including Evernote, OneNote, Google Keep, or Simplenote among others. While those are enough, tried and tested as productivity apps, there are people who want something more specific to their needs. When you say "journalling" it's more of recording memories. Simply put, it's keeping a diary of your everyday life.
Oh honey, Facebook isn't a "diary". No, that's not how you should use the social network. Instead of posting whatever good news or dirty laundry you have, keep it to yourself or just write in your digital journal. Don't know where and how to start? Try the following journalling apps we've listed below for writing down your daily (mis) adventures.
Diaro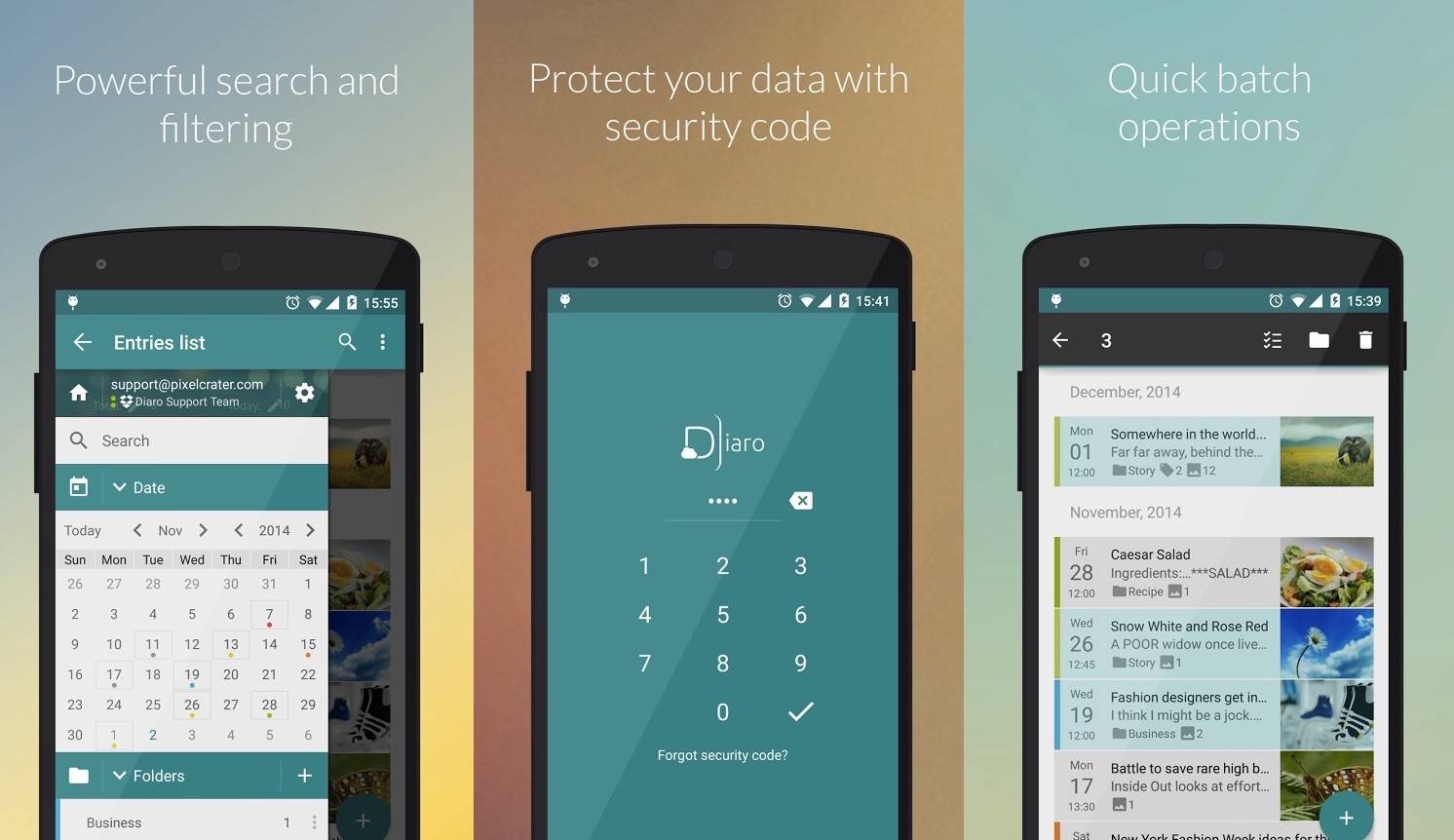 Diaro lets you record everything about your life—your ideas, thoughts, musics, experiences, and activities. This is ideal if you're the type who always wants to write down everything but find it inconvenient to write them down on a real piece of paper. This diary app allows you to save and sync data across different devices. You can organize your entries, search by keyword, and filter results by location, date, tags, or folder.
The app boasts of a user friendly and multilingual user interface designed for phones and tablets. It features a security code, automatic location detection, and multi window mode. You'll see that Notification Bar icon that allows you to create new entry quickly. Since your data are saved, you are also free to access your account from the web or your Dropbox account. | Download Diaro
Journey

The Journey diary app is one that can be accessed from your Android Wear. It has an Android Wear version so you can easily access and check memories of the past right on your smartwatch. Use this as a travel log and then view your photos and adventures in calendar or photo/atlas view. You can sync all data across devices via your Google Drive account, track weather or temperature, tag location or geotag with Google Places. You can also take advantage of daily inspirations, quick add widget, stickers, and quick publish options. App is free to download but there are several in-app features available for purchase.
With Journey, you can also import your data, backup journal, cloud print, share as a different format (html, text, zip, etc.), and export file. You can also get the Chrome version of the app so you can have access to your latest work. | Download Journey
Secret Diary with Lock

Secret Diary with Lock is a simple diary app which keeps all secrets private and protected. There only a few note-taking or journalling apps that offer real privacy with a lock. This app is guaranteed to keep your secrets or special moments.
There's no limit to what you can "tell" the Secret Diary. Go and and record whatever ideas that come to you, all your thoughts and dreams, and all the recent events in your life—you ought to store them somewhere. Your memories will fade someday but when you save them on a diary, it will be joyful to reminisce in the future. | Download Secret Diary with Lock
Bliss Grateful Journal

What's your bliss? Maybe after a few tries of the Bliss app, you will consider this as one. The Bliss Gratitude Journal is the perfect app that can make you feel happy and motivated all the time. Why, the app features exercises that have been proven to increase desirable mental traits. It helps increase your happiness in an otherwise unfulfilling and crazy life.
The app features Bliss packages that you can follow and incorporate in your daily life. The goal is to build the habit of positive mental transformation according to the developers. It really is more of a gratitude journal— a daily diary of one's thoughts. Reading your ideas and meditations on the app might help build your self-confidence and inspire you. What's good about this is that there are writing exercises you can do that will help increase mindfulness, allowing you to become more successful, happier, and a better person. | Download Bliss Gratitude Journal
Flava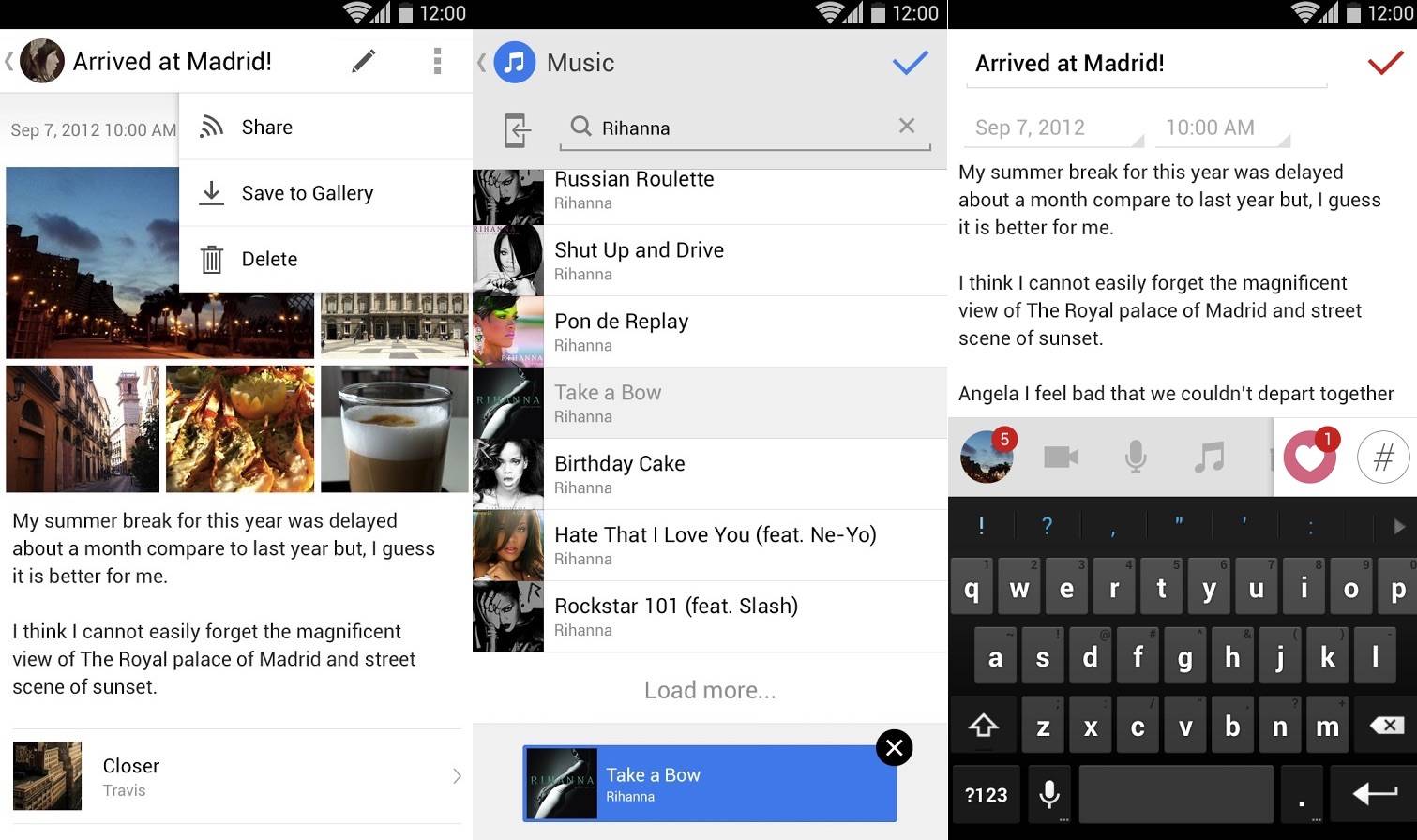 Flava is an app that lets you capture memories that you can treasure forever. It's private and secure, allowing you to take notes and write down your thoughts, dreams, and whatever significant that has happened in a day. App has been described by a lot of users as fun and addictive. It's your very own digital mobile scrapbook. Don't be content in posting your memories on your social media accounts (because some people don't really care).
The Flava app features easy editing, text tagging, thematic icon, auto replay of photos, and safe backup and syncing. A diary can also be shared between couples. Or if you have a child, you can make one to use as a photo book. | Download Flava
JotterPad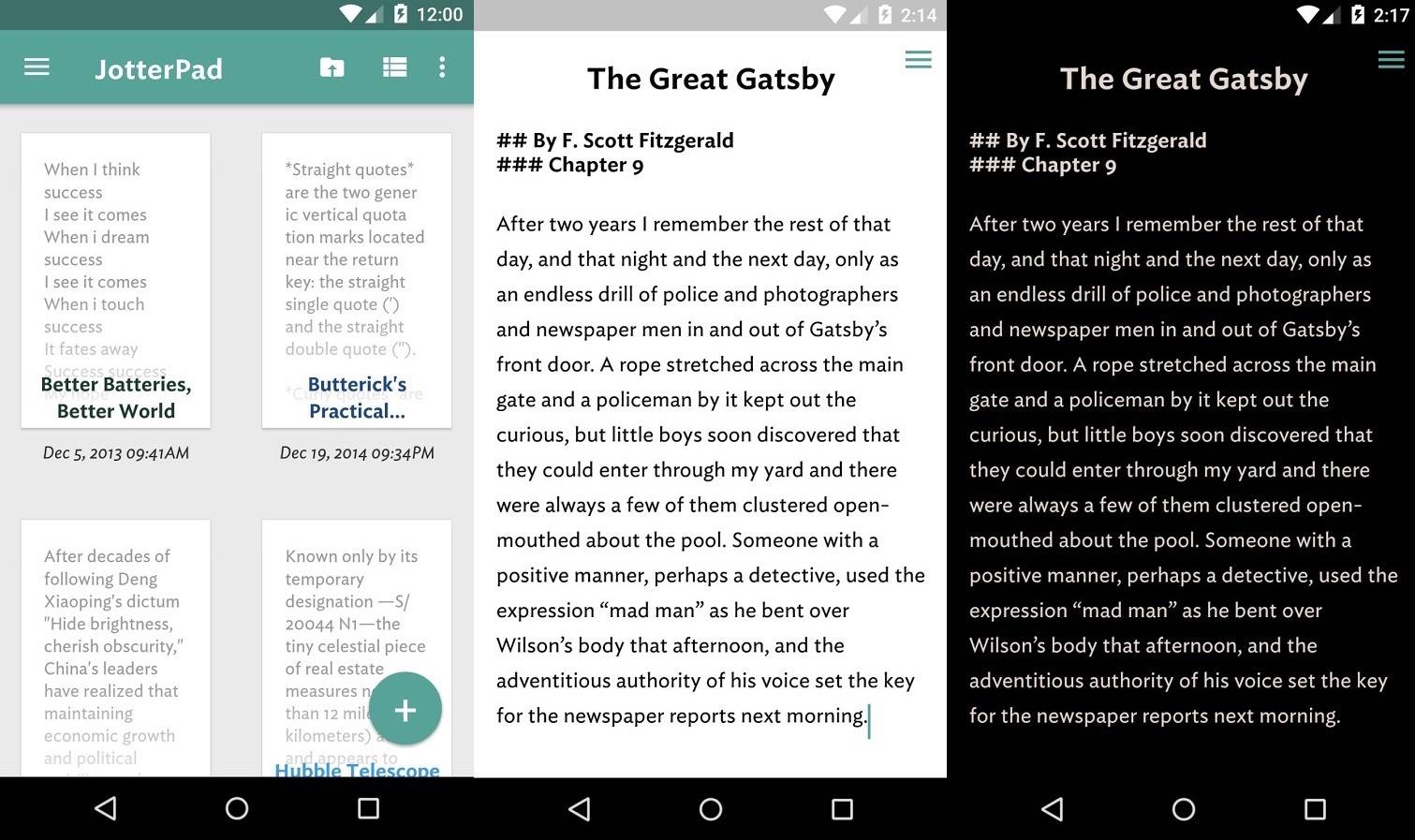 JotterPad is another journaling app that is ideal for writers. There may be note-taking apps out there but this one is more minimalist. It boasts of a cleaner typing interface for those who like to suddenly jot down and weave words to create their next novel, essay, screenplay, poem, or lyrics to a song. You can't tell a writer to just use the native notepad on his phone if there's the JotterPad that can help encourage someone to write creatively without any distractions.
The app is a full featured text editor that comes with keyboard shortcuts, phrase finding, undo/redo, word and character count, distraction-free user interface, built-in dictionary, custom font, and typewriter scrolling among others. App is free but there are several in-app purchases offered as additional and more innovative features. | Download JotterPad