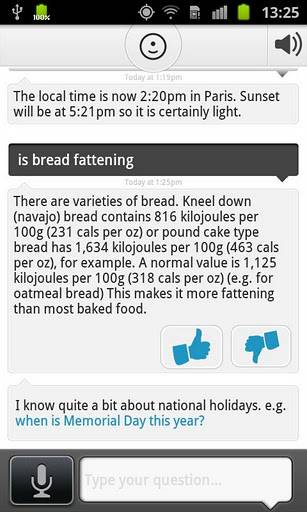 There's a new contextual AI voice app out there to take on the likes of Apple's Siri. No, wait! Don't touch that tab bar! There have been a lot of these lately, especially on Android, but Evi is actually worth your time. The new app uses some of the same algorithms and data sources as Apple's hyperbolic app, giving some impressive results using Android's native voice search and text-to-speech engines. You can download the beta app in the Android Market now.
Operation is simple enough (especially if you've seen an iPhone ad lately): tap the microphone button, ask a question and wait for Evi to respond. The app gathers information from broad Google searches, GPS, Google Maps, Wolfram Alpha and all sorts of other places, giving a contextual answer with links and photos when appropriate. Evi uses Nuance's voice recognition and natural language engine. In addition, you can vote up or down on answers Pandora-style to help improve Evi's effectiveness for you and other users.
I tried Evi this morning with some generally impressive results: when I asked for the population of Montreal, it automatically estimated an exact population for today, based on census data from 2005 and 2011. Unfortunately it seems to be almost completely unresponsive now. It's very likely that a tidal wave of early users on both Android and iOS is causing developer True Knowledge's servers to overload, making it nearly impossible to get a complete request through. Evi is definitely worth a look-see if you've been envious of your iDevice-totting friends, but give it a day or two before going on a trial run. Failing that, you could always wait for Google's rumored "Project Majel" to take you to the final frontier of voice activated artificial intelligence.
[via SlashGear]