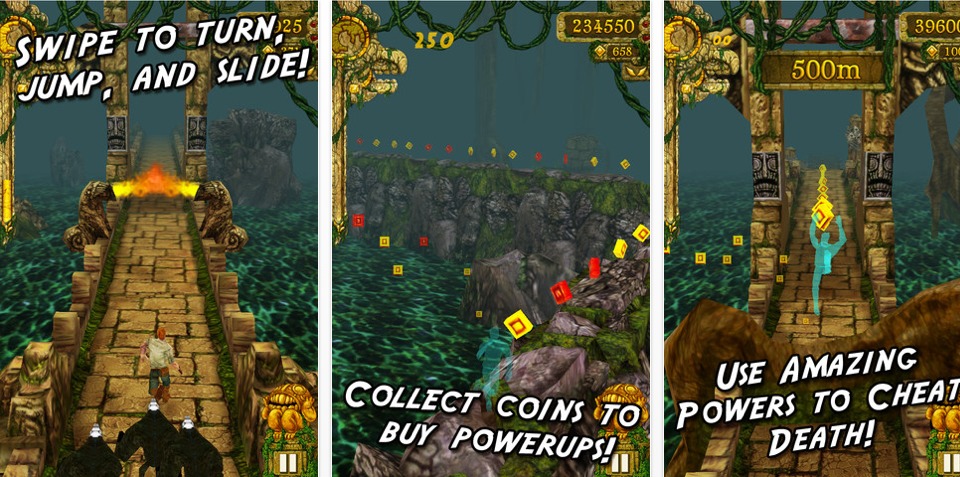 For us in the world of Android we might not see or hear about some of the fun games over on that other platform, but occasionally they have some hugely popular games that haven't quite made their way to Android yet. Take Temple Run for example. It's been the top iOS game for a few months and has seen over 20 million downloads. I'm happy to report it will be landing on Android next month.
Temple Run is free but still currently the top grossing app on that other platform and has over 7 million players daily that are using in-app purchases or just playing for the sheer fun of it. With Android being the number one smartphone in the world this is a huge market that surely will love this game. It was originally $0.99 cents at launch but the in-app purchases have taken over. Most games like Angry Birds and many others have launched for free on Android and we expect the same to happen here.
With Temple Run you basically play an explorer running through the temples and being constantly chased by things like scary monkeys or other animals. It was designed with smartphones in mind and can be played with just one hand if needed — so this wont feel like a console port while playing and enjoying it. The entire story on how this team of a husband and wife made one of the biggest iOS games as of late, and that it will be landing on Android next month to rule our world is at the source below.
Reminder: Lands for Android on February 9th according to rumors. Who's excited?
Update: Temple Run will not launch this week, should still come by end of February according to developers. More details available by clicking here.
[via TechCrunch]