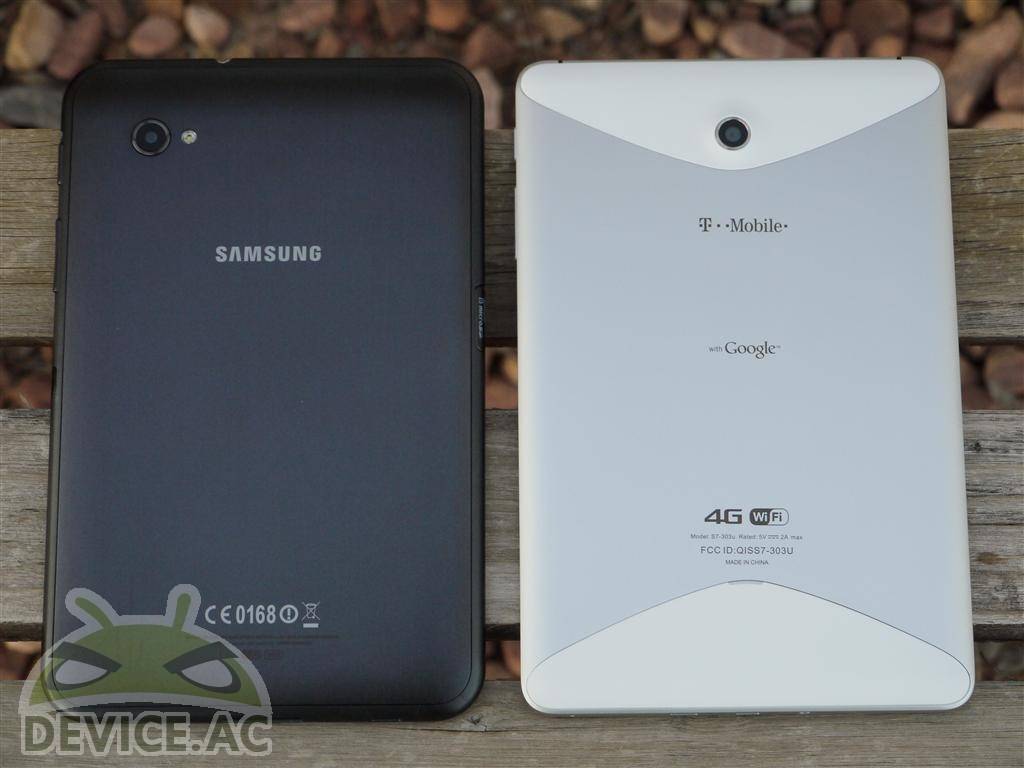 We all love Android tablets but choosing the right one can be a hard decision for some. Especially with the wide array of choices and options available in the market at the moment. Today I'll be showing you some pictures and a quick video comparison between both of the brand new 7″ Android 3.2 Honeycomb tablets available starting today from T-Mobile. Those are the T-Mobile Springboard and the Samsung Galaxy Tab 7.0 Plus. Both are 4G HSPA+ enabled devices and are quite portable. Check out the hands-on video and pictures after the break.
Starting today, November 16th both of these 7″ tabs are available in stores and online from T-Mobile (links below), and while they are both awesome devices I'm sure many of you want to know what is best. Today I'll be breaking down a few small points but first feel free to enjoy our in-depth look at these slates. Galaxy Tab 7.0 Plus review, and the T-Mobile Springboard review. I've also got a quick hands-on video comparison that should help answer any questions better than the photos might — so we'll start with that.
Galaxy Tab 7.0 Plus vs T-Mobile Springboard Tablet

To break down the specs just as I mention in the video these are very similar devices from the design to the internals and more. We have a dual-core 1.2 GHz processor, 1GB of RAM, 16GB internal storage, 3MP rear and 1.3 front cameras and 4,000 mAh battery in both of these tablets so the variation isn't large. However the Galaxy Tab 7.0 Plus is lighter and thinner and performs quite a bit better overall in benchmarks although real world usage was much closer of a race. Even though the Springboard has a higher 1280 x 800 HD resolution compared to the Tab's 1024 x 600 I actually prefer the Galaxy Tab's display. To be completely fair and honest it feels more responsive too.
I mention pricing a little in the video and you can get all the details right from T-Mobile.com as well. Apparently T-Mobile has a few unique plans for these tablets. You can buy the Springboard outright for $429 with a new 2-year contract or the Galaxy Tab 7.0 Plus for $499 (also with a new data contract) or T-Mobile is offering a down payment plan, and that seems to be what they are pushing for. The Springboard will run you $179 in-store along with the data plan and 20 monthly payments of $10 — making the total $379 for the actual device. The Tab 7.0 Plus will run you $229 in-store with the same deal — 2 year agreement and 20 months of $10 dollars. For those that don't want to make a full out expensive purchase the monthly payments will go nicely with your service agreement. At least T-Mobile gives you the option though right?
Again, feel free to check out the reviews on both of these tablets via the links posted above for a more in-depth look at each one and what they have to offer. If I was planning to purchase a 7″ tablet that also had 4G data connectivity these are both exceptional offers and are great at what they do. Offering power, performance, and portability all for a fair price.
What tablet would I choose? For me personally the Galaxy Tab 7.0 Plus is the clear winner here. While the Springboard's amazingly durable design and build quality is nice the aluminum is extra heavy and the squared edges makes it feel fatter then it really is. The Galaxy Tab 7.0 Plus feels better, it's more comfortable and is much lighter during daily usage. Pair that with the small but enjoyable changes with the Samsung TouchWiz UX the entire experience was just a tad better for me. The extra price you pay would definitely be worth it. Although, if you need the extra options such as a micro-USB port and micro-HDMI for accessories or video playback that is one area the Springboard has a clear advantage.
If you just want a powerful and portable tablet that isn't tied down to a Wi-Fi only connection the Samsung Galaxy Tab 7.0 is the best optional available and will be for some time. The Springboard just isn't up to par with what Samsung has to offer but it sure is close. Feel free to ask any questions regarding either tablet and I'll try my best to answer. Enjoy the rest of the pictures in the comparison gallery below then head to T-Mobile and pick one up.
Which tablet would you prefer?
T-Mobile Links:
Samsung Galaxy Tab 7.0 Plus 4G
T-Mobile Springboard 4G Tablet
[device id=1941]
[device id=2018]