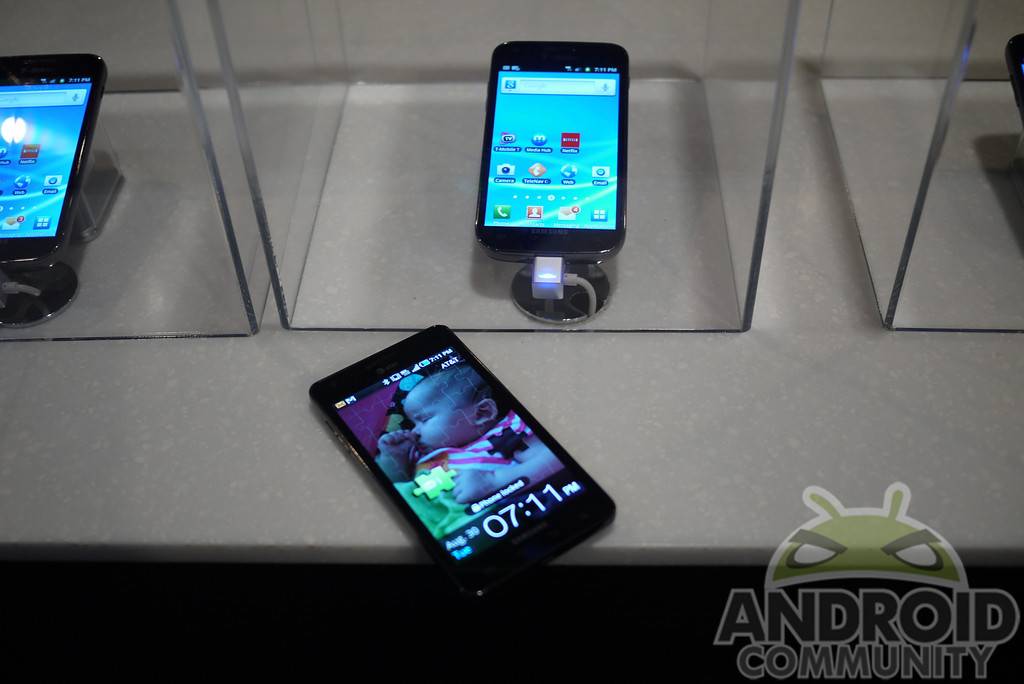 T-Mobile was also at the Galaxy S II party today, they didn't wanna miss out on the dual-core fun and they had their own beautiful phone to show the world. I personally like the T-Mobile SGSII the most with the slightly rounded edges, it just has a great design in my opinion. It was announced by T-Mobile right as the event was starting to day in NYC and you can read all about that here.
For now we haven't heard any carrier branding other than the Epic 4G Touch. T-Mobile and AT&T both just called it the Galaxy S II in press releases so we aren't sure if they will have specific names or not at this point. I sort of liked the T-Mobile Samsung Hercules but that may still be coming so we wont worry too much about that. For now here are the specs of the T-Mobile Samsung Galaxy S II 4G.
– 4.52″ Super AMOLED Plus Display
– 1.2GHz dual-core Samsung Exynos processor
– Ultra-thin design
– HSPA+ 4G Connectivity
– 8MP rear and 2MP front cameras
– 1080p HD video recording
– Wifi calling
– NOVA 2 HD pre-loaded
– Swype pre-loaded
– Netflix pre-loaded
– Bluetooth 3.0
– Hotspot controls up to eight devices
– Android 2.3 Gingerbread
– Optional USB Host kit for connection keyboards, cameras, printers and thumb drives
– Optional HDMI adapter
– Multimedia and Car docks will be available soon
Sadly T-Mobile was playing it safe today and didn't reveal actual size and weight specs like the other carriers, or offer any sort of release date. It's safe to say T-Mobile will most likely be the last to launch their SGSII but hopefully they have a good reason for it. We do see Netflix was pre-installed and neatly showing on the main screen of icons but other then that T-Mobile had their version under a pretty and square glass box and we weren't able to get more pictures. Most likely it will perform just as amazing as its brothers so that shouldn't be much of a concern for any potential buyers.
[vms 5b72b2e7d3527cfc84fd]
We did however get some hands-OFF video and will post that up as soon as it's ready for your viewing pleasure. Samsung also announced a desktop dock and some accessories for all of the SGSII's we've mentioned today. We will have video of that in a moment too but for now check out all the pictures of the dock, event, and the T-Mobile SGSII below in the gallery.