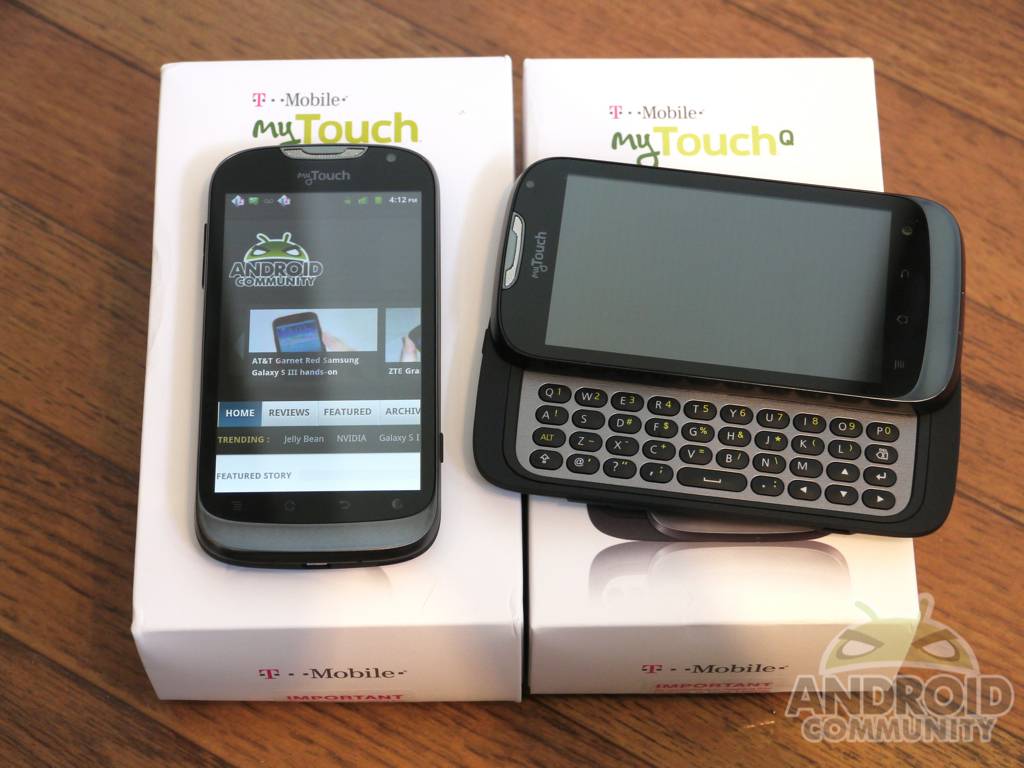 This week we've had the opportunity to take a look at the next set of smartphones to arrive for T-Mobile. These are the next generation of myTouch devices over on the Magenta carrier and are made by Huawei. These new budget smartphones are essentially identical, only one comes with a QWERTY hardware keyboard. Check out pics and details in our full review below.
T-Mobile has released multiple myTouch phones in the past and these are no exception to the family. They are mid-range, budget friendly, and won't be winning any awards other than for their price. The new myTouch devices are rather heavy for their size but are well made, perform great, and will make any first time smartphone buyer plenty happy. Let's dive in, but first here is our hands-on and unboxing.
Hardware
These new myTouch and myTouch Q phones are basically the same, other than the simple fact that the "Q" model has a QWERTY hardware keyboard. That and some added weight and thickness to it. These new myTouch phones both come with a 4.0-inch 480 x 800 resolution display, Android 2.3.6 Gingerbread (and won't see ICS or Jelly Bean) and run on a decent Qualcomm 1.4 GHz single-core S3 Snapdragon processor. Under the hood we have 1GB of RAM, 4GB of internal storage, micro-SD support, and a 1,500 mAh battery. The battery cover and rear have an odd texture as you can see in the image below. We certainly wouldn't call it comfortable. It looks and feels a little odd, almost like very fine sandpaper.
These devices are relatively heavy for their size at 6.52 oz (185 g) (for the Q) and 4.94 oz (140 g). As far as size however they are thin, and have a okay feeling while in the hand based on the curved edges around back. T-Mobile and Huawei have equipped these with 5 megapixel rear cameras with LED flash, and they are capable of 720p video. As well as a VGA front for those self portraits and video chat folks. As usual with most myTouch phones the Android user interface has had a huge overhaul by T-Mobile and Huawei. These aren't made by HTC but it still feels that way with some of the icons and UI.
Overall the hardware is decent and these devices will be great for the mid-range market. We do need to mention the Q's keyboard. As far as the hardware goes the keyboard is solid. The slide-out is quick, smooth, and stays put. It does have some wobble and looseness to it, but nothing that we haven't seen from other sliders. These would be awesome phones 2 years ago, but now they are just an entry level device for a low price.
As far as phones capabilities go these phones are great. T-Mobile's always had very clear call quality so that wasn't an issue. Speakers were loud and clear, voices were crisp, and speakerphone was ok but did get a little muffled at high levels.
Software
Once you power her on you'll quickly notice Android 2.3 Gingerbread as the operating system. It has some major changes and won't be stock Android. It isn't as polished as Samsung or HTC's UI tweaks, but in general performance was swift. Having only a single-core processor you won't be enjoying butter smooth quad-core like performance, but nothing you'll notice for a first time smartphone buyer. The OS has some odd changes to the app tray, pulldown bar, and an odd choppy animation in the browser when switching to landscape view.
Without pulling the battery door open you'd never know this was a Huawei smartphone. The only branding is T-Mobile and myTouch, and the UI has hints of HTC inside. It does come pre-loaded with tons of T-Mobile software. One being T-Mobile HD TV although the screen isn't HD you can watch movies and TV with the app, and Swype keyboard. Just like all myTouch phones you have the Genius button to replace the search key. This uses Nuance voice dictation to get directions, search for a nearby store, or make a call. This is nothing new, just T-Mobile's own unique implementation. Here's a look at the software:
Camera
Again both devices are exactly the same in the hardware department, so the 5 megapixel camera on both works the same. Have a look at a few samples showing just what these shooters can do. It's nothing fantastic, but should be great for Facebook and quick shots. The 720p video is pretty average at best too, but then again you aren't getting 1080p video capture here.
Battery Life
Huawei has outfitted these phones with a 1,500 mAh battery under the hood, which is also the only area that says Huawei on the phone. While it isn't the biggest battery around the single-core processor and 4-inch screen should handle just fine. Older devices still came with upwards of 1700+ usually, so I'd consider this a con. Standby battery my phone lasted over 4 days with full 4G enabled and all. I used it a few times of course and I was amazed by that. Regular all day use you'll hopefully be able to make it through a day — but no guarantees.
Wrap-Up
Both of these devices will land at retail stores nationwide and online from T-Mobile on August 8th. They'll be offered at a budget friendly price of $49 after a $50 mail in rebate. The regular myTouch comes in both black or red color options, while the myTouch Q comes in black or white. They keyboard won't cost you any extra. It's your choice! Overall these phones are quite decent. Being aimed at back-to-school shoppers or first time smartphone owners — they'll do just fine.
Although given the price we'd have to recommend the Samsung Galaxy S Blaze 4G for a better mid-range option. Then of course the Galaxy S III being the top end for those looking to spend a little extra. If you want a massive HD screen and don't like these budget phones feel free to get the T-Mobile Galaxy Note. If none of those are for you, or you're on a budget snag these latest myTouch phones up for the family, and enjoy it.
[device id=3040]
[device id=3036]