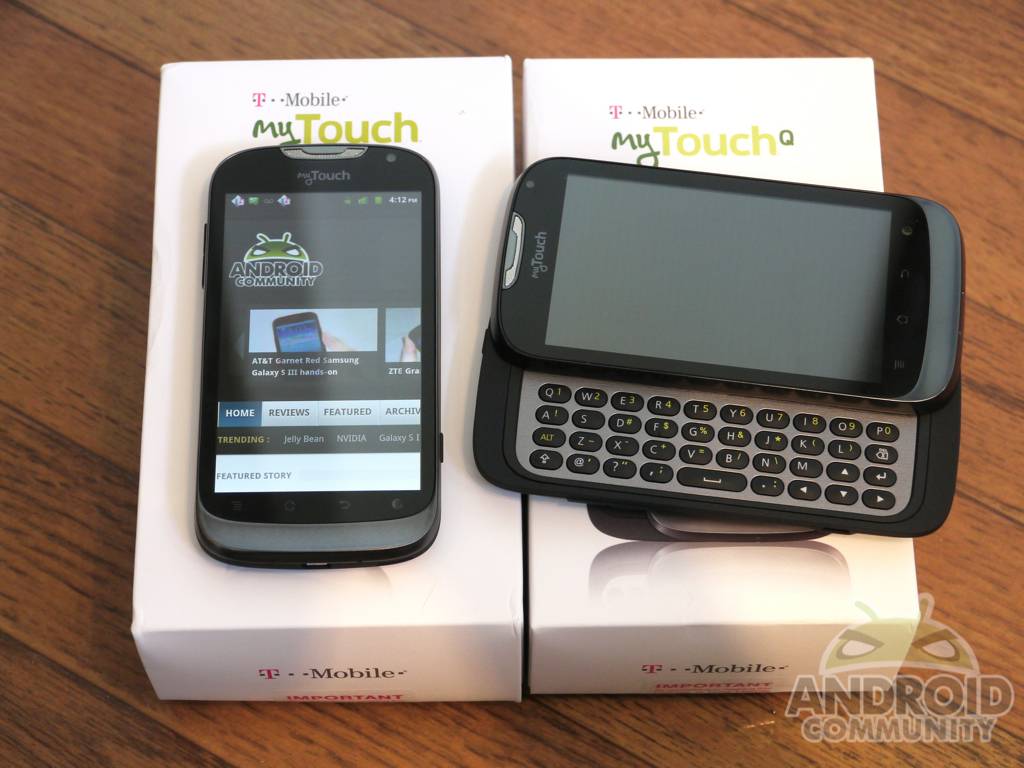 Today we have our hands-on the newest editions to T-Mobile's growing smartphone lineup. What we have here are two brand new Huawei smartphones but branded as the T-Mobile myTouch and the myTouch Q. We've seen countless leaks on these budget phones, but they'll soon be available from a T-Mobile store near you. For the extremely low price of $49 lets see what these phones have to offer in our hands-on below.
The new myTouch and myTouch Q are near identical in all ways, other than the simple fact that the "Q" model has a QWERTY hardware keyboard, plus a little more weight and thickness to it. These new myTouch phones come with a 4.0-inch 480 x 800 resolution display, Android 2.3.6 Gingerbread (and probably won't see ICS or Jelly Bean) and run on a decent Qualcomm 1.4 GHz single-core S3 Snapdragon processor. Under the hood we have 1GB of RAM, 4GB of internal storage, micro-SD support, and a 1,500 mAh battery. The battery cover and rear has an odd texture as you can see in the image below, and isn't very comfortable if you ask me. It looks and feels a little odd.
T-Mobile and Huawei have equipped them with a 5 megapixel rear camera, with LED flash, and they are capable of 720p video. As well as a VGA front for those self portraits and video chat. As usual with most myTouch phones the Android user interface has had a huge overhaul — for the worse. Someone new to Android or smartphones will enjoy it, but the purist surely won't.
The new myTouch and myTouch Q feature the T-Mobile Genius button powered by Nuance's Dragon Dictation for voice actions, T-Mobile TV HD for on-demand video, and come pre-loaded with Swype keyboard. Check out our quick unboxing video for a better idea of what to expect with either of these phones.
So far our initial impressions aren't all that great, but for the budget friendly price of $49 (after $50 mail in rebate) these phones are quite decent. Being aimed at back-to-school shoppers or first time smartphone owners — they'll do just fine. The soft-touch matte back is very odd and feels a bit rough in your hands as I mentioned above, but you won't be dropping the phone any time soon. Before we give any additional thoughts on these new budget friendly mid-range smartphones we'll have to enjoy them for a few days. Expect a full Android Community review with plenty more pictures early next week. Let us know if you have any questions on the myTouch and myTouch Q in the comment section below.
[device id=3040]
[device id=3036]