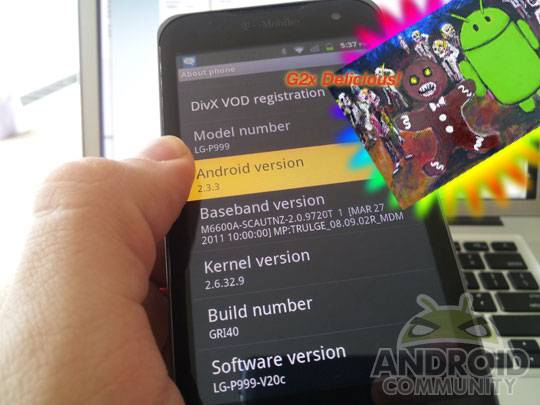 What we've got here, courtest of Paul from MoDaCo is what appears to be the Gingerbread build that will eventually be the one send out to G2x users across the USA. This build is release-key signed, which generally means that it's the real deal, and the file you're about to download is both pre-rooted and is a repacked ROM so you'll be able to flash it easily – just so long as your device is rooted, of course. We've got full instructions on how to do this here plus a quick look at the insides.
The video you're about to see goes through a few tiny areas that are indicative of Gingerbread-ness and will inevitably be showing up in Android 2.3 for your G2x, but take it with a grain of salt. Most everything can be faked, and who the heck knows for sure? That said, it appears to yours truly to be legit, and aside from the external SD card not mounting properly (still working on it) and benchmarks not turning up so sweet thus far. It does smell like Gingerbread, at least!
[vms 57df27213ede1ac4ac78]
There's a couple of points that I'd like to pass on to you from Paul about the build, the first of which being that this release does NOT include an updated baseband – Paul notes that he'll provide it too once he's got it (secret mafia business!) Next, that this release is repacked the ROM to update zip format for your ease in flashing and it's pre-rooted, other than that, it's 100% the way he found it. The following process will void your warrantee with T-Mobile and you'll be very very sad if you mess it up because you'll have to buy a new phone. That said, have fun!
This guide starts at an out-of-the-box state with the G2x, so if you're already rooted and have ROM Manager set up, skip to Part 2.
PART 1
1. Follow Directions A/L for rooting on Apple or Linux computers, Directions W for Windows machines.
2. Once you are rooted, download ROM Manager.
3. If you are correctly rooted, you should be able to open ROM Manager with no problems, if you did not attain root correctly, ROM Manager will pop up a window that tells you so.
4. Flash ClockworkMod Recovery. This is the top button in ROM Manager and should only take a minute or two if you're on a fast data connection.
Part 2
5. Upon successful flashing of ClockworkMod Recovery, head to this MoDaCo thread and grab the download at the end of the first post called "DOWNLOAD (ROMraid Load Balancing) – MD5: 5992d38b6427c06a2ce0bfeb259d201c"
6. Move this file to your SD card. The easiest way to do this is to download Android SDK, install all the most recent updates via the "Android" tool in the "tools" folder, and open the "DDMS" tool. Once you've got DDMS open, go to Settings – Applications – Development – and activate USB debugging, followed by plugging in your device to your computer via USB. Your device should show up in your DDMS window – highlight it by clicking and go to Device – File Explorer. From there you should be able to locate your SD card and place the .zip file you downloaded in step 5 inside.
7. Unplug your device from USB.
8. Open ROM Manager.
9. Supposing you've already flashed the most recent version of ClockworkMod Recovery, you can now locate the zip file with the button "Install ROM from SD card."
10. Be sure to have "Backup Existing ROM" clicked, then click the other two options for good measure.
11. Press OK.
12. Supposing you did everything correctly, your device will be rebooting, backing up your current setup, and loading the new Gingerbread ROM.
13. You're set!
Confused at all? Ask a question below and I'll do my best to answer it!