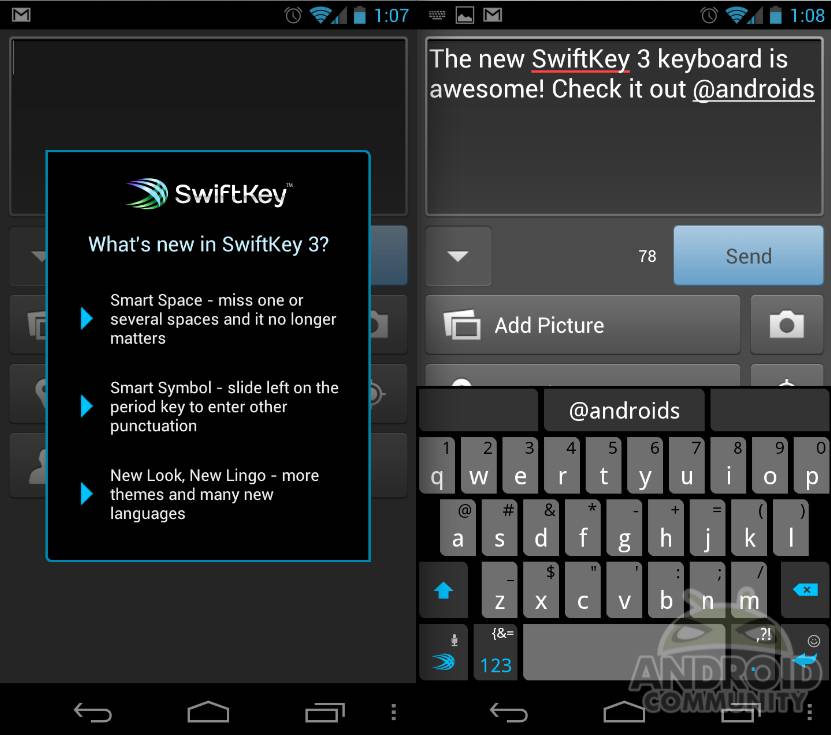 The popular 3rd party keyboard for Android SwiftKey is back in the news today announcing the all new, redesigned SwiftKey 3 for smartphones and tablets. Available starting today is the new and improved SwiftKey 3 beta for their VIP forum members, and we can expect it to launch in the Play Store soon. We were lucky enough to enjoy the predictive text features and more all early so check out the hands-on after the break.
With SwiftKey 3 we get a completely redesigned keyboard. The layout has slightly changed, the keys are bigger and easier to type with, and most importantly the spacebar is taller, and longer. They've taken an entirely new approach to the feel and look of SwiftKey and made it resemble the improved look of Android 4.0 Ice Cream Sandwich and the Holo theme.
In both the phone and tablet layouts as I've shown above, you can see SwiftKey's new look and their new Cobalt theme that comes equipped by default. They still have the original light, dark, and neon themes as well as an all-new Holo theme just like ICS specific for their keyboard. My personal favorite is Cobalt though.
What makes SwiftKey 3 special isn't just the new and improved layout and spacebar, but the awesome tweaks they've made the the text recognition and prediction. By far the most impressive change however, is the fact that we don't even need the spacebar anymore. Technically we still do but now the text engine can predict, correct, and suggest words all while adding in the spaces for you too. Just type away and SwiftKey 3 does all the work. It's actually extremely impressive to hit the spacebar once at the end of an entire sentence, and have every word corrected and placed correctly. The call this "Smart Space" and it works wonderfully.
[vms 2c33fd6886a37e728849]
You can also watch the hands-on from SwiftKey themselves by clicking here. Along with the awesome new UI, two new themes, the improved spacebar and punctuation key they also have added support for more languages. Bringing the total supported language list up to 42. New ones available today consist of: Korean, Estonian, Farsi, Icelandic, Latvian, Lithuanian and Serbian.
So far we are pretty impressed and I've been typing all week hardly ever hitting the spacebar and everything's working out great. I'd hate to have to resort to using the spacebar again, that would be a bummer. The all new and improved SwiftKey 3 is NOT yet available in the Android Market Play Store, but should be soon. More details can be found at SwiftKey.net and if you'd like to try SwiftKey 3 beta today head down and sign up for their VIP forums — it's free.
Update: SwiftKey servers are getting hammered. Keep trying or check back tomorrow to get VIP access and the new SwiftKey 3 beta.