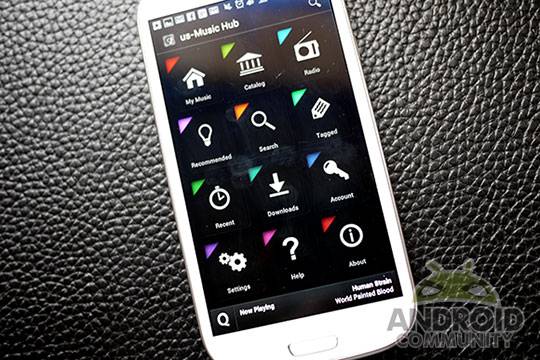 Samsung's getting close to launching their new music service to rival the folks at Spotify, and even Google Play Music here in the US. This week they've let a few lucky users enjoy an early beta preview of their new Music Hub. We first mentioned this back in May, but now we've received our own hands-on time with the music app for Android.
Samsung's new Music Hub will start off being available for their new flagship Galaxy S III, and eventually make its way to other devices. At first glance it'll feel and seem like a great blend between Spotify and Google Music — and in a way it is. It takes clues from many popular options available today, and adds its own flare and polish for an overall solid experience.
Overall our first impressions of the new Music Hub streaming service are quite positive, but we've only had a very limited time to enjoy the application. When first launching the app you'll be greeted with a grid of options and icons. They look great on our Galaxy S III but sadly there is no tablet app at this time.
As you can see from the screenshot above Samsung gives you a large list out of the gate. To start you'll need to be signed into your Samsung account — which is the same media hub account many have with recent Samsung devices, Smart TV's and more. The starting grid at first launch consists of 12 options:
• My Music
• Catalog
• Radio
• Recommended
• Search
• Tagged
• Recent
• Downloads
• Account
• Settings
• Help
• About
The design is simple, fresh, easy to understand, and runs quite fluid and nicely for us. With Samsung Hub you can upload music right to your Samsung Hub account for streaming, as well as streaming right from Samsung themselves. Then of course it'll obviously play any actual music files you've got on the device too. For now you'll have access to roughly 19 million tracks, and more are being added daily.
Oddly enough though some tracks you can fully enjoy, while others are limited to 30 second previews and then you'll be prompted to purchase the song. In the "My Music" grid you'll find anything and everything music. From on device MP3's, purchased music, and previously streamed songs. Music Hub also offers 7digital integration and all of that account info can be transferred over too.
Just like many current offerings Samsung will handle all of the file type conversion, as well as album artwork on their end. So this means users will have a seamless experience with smooth audio playback and album artwork should they want it. Also Samsung's worked hard to make the entire user experience and UI simple to use and navigate. Taking hints from a few different competitors the "Now Playing" screen is my favorite part. The album artwork is large, HD, and easy to see. Then you can simply swipe left or right for next/previous tracks — artwork included — and even previewed before you swipe. Well done Samsung!
For now the official Samsung Hub service is only available in Europe, but will be headed stateside very soon. Samsung mentions that the app itself, information, subscription details/pricing and more will all be available on their website shortly. Like mentioned above this will be exclusive to the Samsung Galaxy S III, but I'm sure the developer community will change that real quick. Stay tuned for further details!