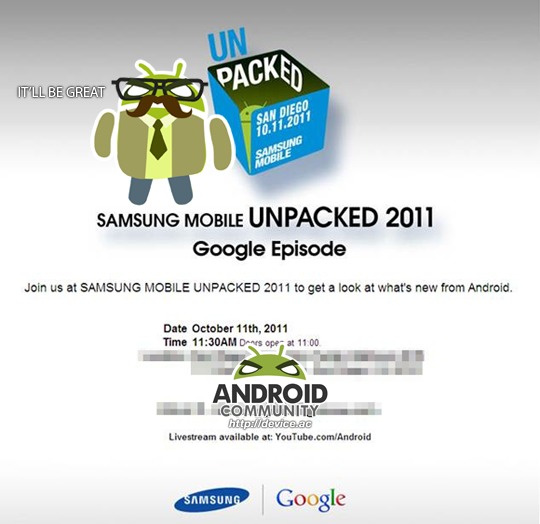 It's time for some Ice Cream Sandwich. Or at least that's what appears very likely for this October version of Samsung's continuing "Unpacked" series of keynote speeches, each one revealing something monstrously neato each time they appear. This newest episode will take place aside CTIA's Autumn show in San Diego, California, and is specifically titled "Google Episode", this meaning quite possibly that it'll be a rather tasty event, treats galore inside — could it be Prime time?
Before you go any further, you've got to check out two sources for a complete rundown of what we know about the very possible Samsung Nexus Prime device we'll likely be seeing at this Unpacked event. First, you can hit our [Nexus Prime portal], then you can hit our sister site SlashGear's "Google's Next Nexus Phone Details Rundown [Mid-September 2011 pre-release]". Those two should have you fully educated on what'll likely be the vehicle in which we see Android's next big operating system version Ice Cream Sandwich roll in on. Sound like the situation to you?
Perhaps we're totally off the wall in thinking Ice Cream Sandwich would come in on a Samsung device – you never know, right? The other things we could be seeing, though these are less likely because they're already out internationally, are the Samsung Galaxy Tab 7.7, the Samsung Galaxy S II LTE and HD, the oddly familiar Samsung Galaxy S II X, the unnamed "shv-e120l", or of course the Samsung Galaxy Note. Will it be something we've already seen?
One way or another, you'll know quicker than anyone else as you'll have both your YouTube tuned to Android and your Android tuned to Android Community – we'll be there covering the event live while we all watch together via the internet. Welcome to the future!