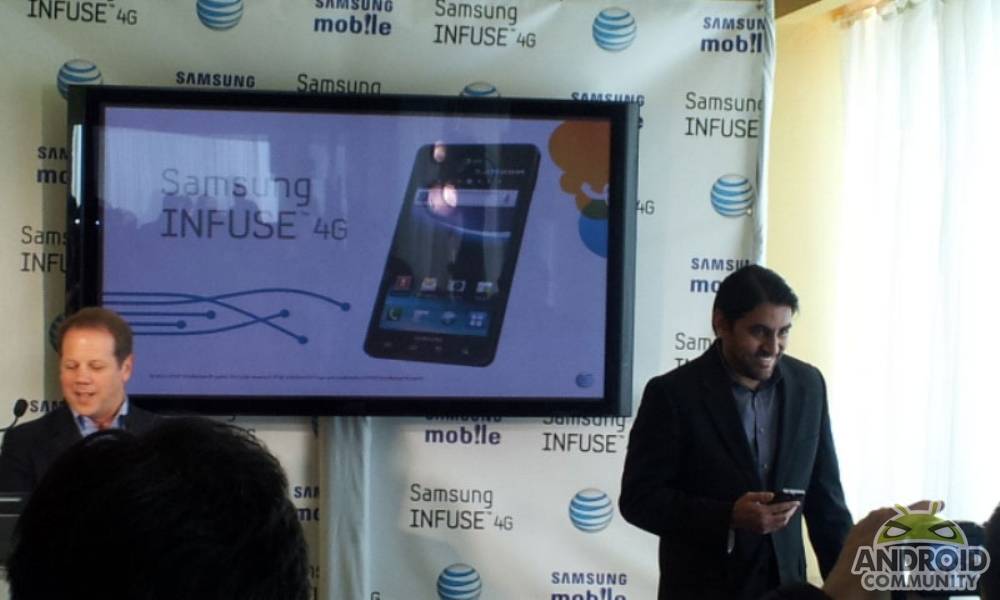 We are at the Samsung event today, and they have opened the doors for everyone to jump at the Samsung Infuse 4G, in case you have missed it this device is sure to pack some excitement around it for the next few weeks. It will operate on AT&T 4G Network and it boasts some pretty nice specs including: 1.2 Ghz single-core processor, a huge 4.5″ SuperAMOLED+ Display, 8 MP camera and more. For more details click here
Other than having a team member live at the event, we don't have much to go on regarding the claim in the title. "First phone to support hspa+/hsupa at launch", other than they mentioned it having dual antenna's and the first phone to support both on launch date. This is probably referring to the Motorola Atrix and its hsupa problems as of late. A lot of talk has gone around regarding why it wasn't enabled, and why people were not getting hsupa speeds on their "4G" phone, only the download speeds but not the upload.
To keep the record straight, the Motorola Atrix had both at launch, but hsupa was disabled for unknown reasons, that has been a large part of the criticism Motorola and AT&T have faced because there was no mention of it and users just noticed it not working on their shiny new 4G phone. So for those tired of dealing with the Atrix, or have been waiting for something possibly better. We and Samsung present you the Infuse 4G. With its huge 4.5″ screen and full hspa+ AND hsupa support out of the gate, no updates required.
This should be a easy choice for those that don't need the dual-core in the Atrix. So wait a few weeks, and come May 15th you can get your very own Infuse 4G for $199 with a new contract as usual. I can't wait for some hands-on. That is coming up next.