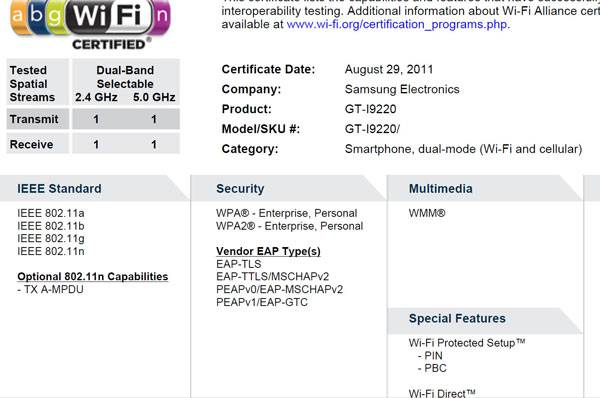 Back on the 24th of August, a picture was floating around that was at first thought to be the Samsung GT-I9220 smartphone packing its giant Super AMOLED screen. That photo later was proven to be the 5-inch Galaxy S media player. If you thought that meant the rumors of the GT-I9220 smartphone were all false, they were not.
The smartphone is real and the certification sheet for the smartphone has been found on the Wi-Fi Certified website. As you can see on the photo above the device is clearly listed as the Samsung GT-I9220. The smartphone will pack a 4.3-inch Super AMOLED HD screen. The screen has 326ppi and the resolution is 1280 x 720.
The smartphone is also expected to have Android 2.3.3 Gingerbread onboard, a dual core 1.4GHz CPU, and an 8MP camera. This sounds like an impressive device indeed. We are hoping that the phone will break cover officially at IFA 2011 kicking off next week.
[via OLED-Display]