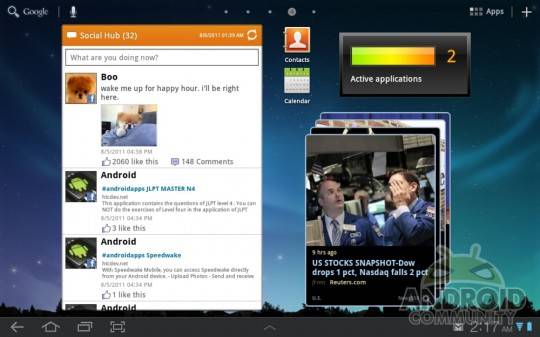 This is a bit of random news that is for sure. Apparently Samsung has halted the rollout of the recently released Touch Wiz UX update for the Galaxy Tan 10.1 Wi-fi tablet. It started hitting devices sometime last week but it appears they might have found a few bugs and are now temporarily halting the update to assess the problem.
While we recently accepted the update and have been enjoying it you can see our full Touch Wiz UX Update Review. Our man Chris Burns has been enjoying all the new features although he has experienced more lag than usual and the occasional slowdowns weren't present before the update. We did let out a public service announcement that the update was NOT reversible, but it appears maybe we should have said it a little louder.
The software update is working great for most, some users have been experiencing lag and graphical glitches according to some comments and our sources. Following @SamsungCarla on Twitter she has confirmed the Touch Wiz UX update has been temporarily halted "To Assess Progress And Ensure It's A Positive Experience". Basically make some bug fixes is what she is trying to say.
Have you accepted the update yourself? If so do you like it or are you experiencing similar issues? Feel free to add your thoughts to the comment section below.
[device id=89]
[via Android Police]