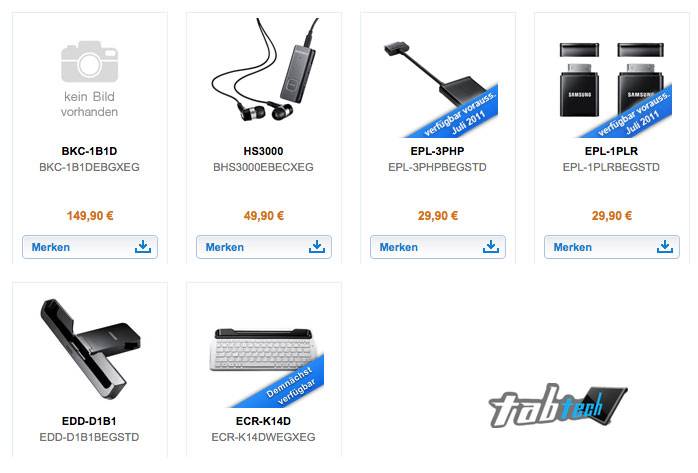 One of the things that people didn't like that well about the Samsung Galaxy Tab 10.1 when we did our review of the Limited Edition Google I/O version was that the machine lacked any connectivity. It turns out that the connectivity and accessories for the tablet will use the Samsung docking port on the tablet just as the iPad accessories do. A bunch of the accessories for the tablet have now surfaced on the German Samsung page and have been priced as well with some available now.
The accessories include a hard case with cutouts for the camera with part number EFC 1B1N selling for 69,90 €. Another case made from leather and lacking the camera cutouts is set for a July launch at a lower price of 29,90 €. The BKC-1B1D at 149,90 € is pegged as the case that has a keyboard inside. Other accessories listed include headphones and an HDMI adapter supporting full 1080p at 29,90 €.
Rounding out the accessories are a USB adapter for the same 29,90 €, a docking station with HDMI audio output for 34,90 €, and a keyboard dock for 79,90 €. The keyboard dock has an acoustic amplifier as well that needs no outlet or batteries to operate. The only accessories with a later launch date are the HDMI adapter, USB adapter, and the case with no cutouts all set for July. The other gear you can pick up now.
[via Tabtech]