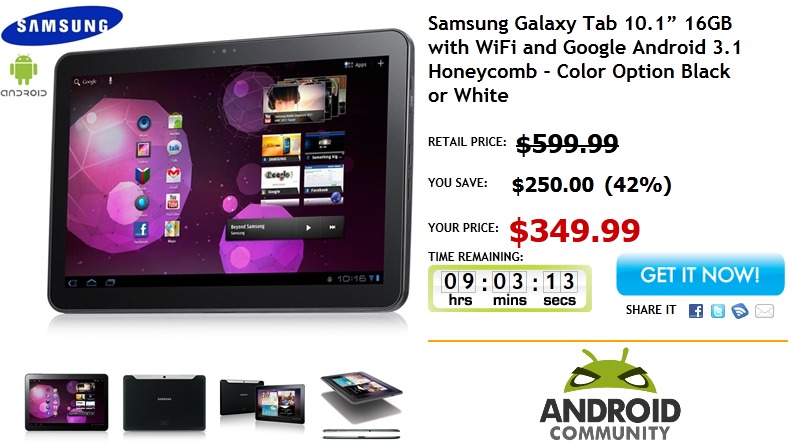 For those that passed on a few of the other tablet deals in hopes for something better this may finally be for you. In what is one of the best prices I've seen for the Galaxy Tab yet DailySteals has the Samsung Galaxy Tab 10 Wi-Fi 16GB model for $150 off retail, asking just $349. The Transformer and Acer A500 might be nice but nothing compares to the Galaxy Tab at the moment if you ask me.
We all know plenty about this amazingly thin, lightweight, and speedy tablet but just in case here is my Tab 10.1 LTE review. I've seen the price drop to $429 on ebay but nothing like this under the $400 level.
I do want to mention that this awesome price comes with a small catch, these are refurbished units and that is the cause of this steal of a price. I don't know about many of you readers but every refurbished item I've purchased has turned out just fine other than a generic box or so. I'd have no problems snagging this deal up if I didn't already own (and love) the Galaxy Tab 10.1 LTE.
The deal ends in about 9 hours so you better hurry and decide, convince your wife, or whatever else needs to be done to snag this deal while it lasts. Do you guys care if they are refurbished? Or is that enough for you to pass on this deal? Let us know in the comment section below so we can better our deals searching.
[via Dailysteals]