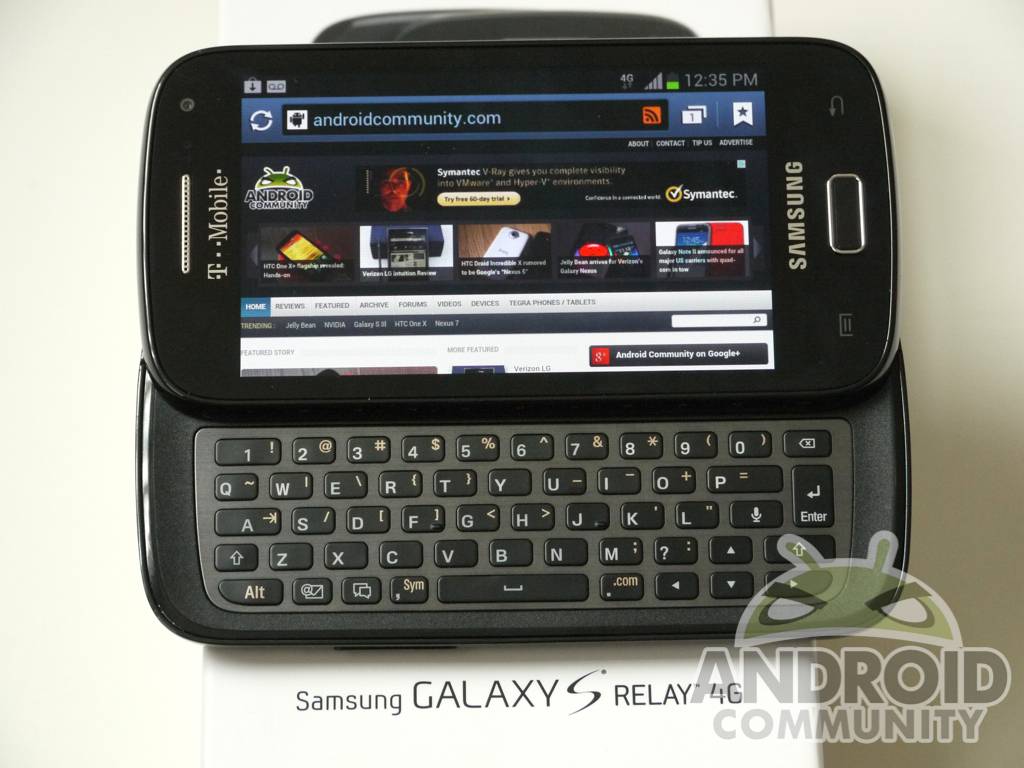 If you're in the market for low priced budget smartphone that has some quality specs and a hardware keyboard, we might have one for you. Samsung's added another device to their ever expanding lineup on T-Mobile with the new Galaxy S Relay 4G — complete with a slide-out QWERTY hardware keyboard. This mid-range 4-inch smartphone rocks Android 4.0 Ice Cream Sandwich so lets see how it stacks up to the competition.
This phone had all sorts of names like the Blaze Q and more before officially getting released with the lengthy title it has now. It has most of the makings for a top-end smartphone, but the screen and slightly outdated camera are what bring this to you for a low price. Here's some more details.
Hardware
The Relay 4G is no slouch on hardware. It's a fine blend between the Galaxy S II and the older Samsung Captivate Glide from AT&T. You combine the design elements of the Galaxy S II with a smaller screen and tack on a keyboard. The specs have a slight drop overall (except CPU), but nothing to be too concerned about. As far as hardware this certainly looks and feels like a slider. You get a little heft and size to your device, but that comes at the benefit of the dedicated hardware keyboard for those in need. Full size specs are: 125.9 x 64.9mm in size being 13.4mm thick — so basically a mini brick like most sliders.
Overall the hardware is pretty decent. It feels great, it's durable, and build quality is a fine blend of plastic and soft touch matte backing for the rear so it feels like a quality smartphone. As far as a spec sheet we have a 4-inch WVGA (800×480) display — so no HD here — Qualcomm's Snapdragon S4 (says S3 on box) dual-core processor at 1.5 GHz, 1GB of RAM, and 8GB of internal storage. As usual we get a micro-SD port for expanded storage, and the usual bells and whistles. Then you'll be working with a 5 megapixel rear, 1.3 front camera setup, 720p video capabilities, and a decently sized 1,800 mAh battery.
As you can see the setup is extremely familiar. Power button around the right edge, micro-USB for charging on bottom, volume up/down to the left, and the lone 3.5mm headphone jack up top. The soft touch matte rubber on back feels great and makes the device slip resistant — something I can't say for their new flagship Galaxy S III. The images above should give you an idea on the hardware, as well as the video below.
Keyboard
Honestly we weren't too impressed with the keyboard. In a world with bigger displays, accurate on-screen keyboards, and voice dictation this is slowly becoming a non-factor. For many however, hardware keyboards are still something sought after. In that regard the keyboard here is decent — but it's the rest of the package that makes this great. In general we didn't really enjoy the keyboard experience due to the hard plastic keys, flush design, and lack of spacing. Typing took some serious getting used to, and even then I opted for Google's voice dictation and on-screen typing personally. Previous QWERTY's from Samsung have been better including the Captivate Glide, and even the old Epic 4G.
The Relay 4G is one of the best smartphones to date that comes with a QWERTY hardware keyboard so that should make plenty of users happy. If you need a keyboard, are on T-Mobile, and don't want those massive screens this is a great package and a powerful phone. Certainly about 10 steps better than T-Mobile's Huawei made myTouch Q we recently reviewed.
Software
With the new Samsung Galaxy S Relay 4G you'll be working with nearly the latest version of Android. That being version 4.0 Ice Cream Sandwich. This comes out of the box — so you'll only be waiting for the recently released 4.1 Jelly Bean. Everything that makes Android great is here. You have multitasking, an enhanced camera, voice dictation for hands-free typing, emails, Google searches and more. Then performance is smooth and swift as usual. Here's another quick look at the hardware and software in our hands-on video review.
Thanks to Android 4.0 Ice Cream Sandwich the device is basically buttery smooth and performs great. From browsing the web, playing a few games, snapping pictures and more everything flows with ease. The dual-core Snapdragon processor keeps things chugging along great, and multi-tasking by long pressing the home button is a breeze. As usual the software is riddled with T-Mobiles bloatware, which is only getting worse as the year continues. Out of the box we have 8 apps just from T-Mobile themselves — 8! That doesn't count Amazon, TeleNav GPS, and Samsung's additional music and video players. You'll have three full pages out of the box, none which can be uninstalled. Thankfully you have 4GB of internal storage so you'll never need to worry about having too many apps.
Benchmarks and 4G Speeds
We've ran a quick couple of benchmarks to see how this budget smartphones stacks against the competition. As you saw in our video it had no problems keeping up with the times and being a mid to high end device. For the price it performs great. Quadrant saw impressive results blasting past 5k, while as usual AnTuTu wasn't as kind for the lack of graphical power. Games will play with ease though — so don't worry about missing out on that Angry Birds Space.
T-Mobile doesn't rock 4G LTE like Verizon or AT&T but you'd hardly notice it missing. Here in Vegas their HSPA+ "faux 4G" speeds are excellent. I achieved around 14-16 Mbps downloads and 1-4 uploads daily this entire week. Safe to say you'll be uploading those 5 megapixel photos to Facebook with ease.
Browsing the web, uploading a stack of photos after a night out, or just updating apps you shouldn't have too many problems as long as you have T-Mobile's 4G speeds in town.
Camera and Battery
Sadly Samsung's only tossed in a 5 megapixel camera here, but for a budget-aimed device it certainly does a respectable job. Even indoors the images were acceptable, and outdoors you'll have no problems getting a decent shot. Below is a few samples taken with the 5 megapixel shooter on the Relay 4G.
Then battery life is always a concern. Being that we don't have actual 4G LTE sucking down the battery, nor is there a massive 4.8-inch screen that will drain the life from your phone you'll have no problems here. The battery is a decent size coming in at 1,800 mAh — which isn't as big as recent Sammy phones — but it lasts well over an entire day. As you see below I've used the phone for almost 24 hours and I'm at about 56%. It's safe to say medium usage will last almost two days on a full charge.
Phone
As a phone, yes one of those things we make calls with, it works great. The speakers are loud and clear, and the external speaker for conference calls or while watching a YouTube video was decently loud. T-Mobile has great call quality and we experienced nothing bad worth noting. You'll probably only be texting on that 5-row keyboard anyways — but it was worth a quick mention.
Wrap-Up
As we said above, the Samsung Galaxy S Relay 4G is no slouch. In terms of any real QWERTY Slider competition on T-Mobile — there is none. The myTouch line runs Android 2.3 Gingerbread, as does the Galaxy S Blaze 4G, and neither have the dual-core S4 processor power under the hood. It's very safe to say this is the best slider T-Mobile has to offer.
Overall we were mildly pleased with the Relay 4G. For a mid-range smartphone costing just $149 the package is decent, but we'd still rather spring an extra $50 for the Galaxy S III — then you'll get all the stars instead of just most in the "Galaxy". In the end this device is aiming at the keyboard crowd, and in that regard the hardware was certainly not my favorite. We'd recommend something along the lines of the Galaxy S II or Galaxy S III over this, but if you must have the keyboard this is surely the best bet from T-Mobile. Enjoy the rest of the pictures in the gallery below. Head to your nearest T-Mobile store to pick up the Galaxy S Relay 4G today!
[device id=3425]