Today one of our favorite Android phone manufacturers unveiled another awesome color for their top of the line smartphone. Why yes we are talking about Samsung and the highly popular Galaxy S II. Today in South Korea Samsung has unveiled the "pretty" or "cute" Galaxy S II rocking everyone's favorite color — hot pink! I know you guys are all excited right about now so check out the photos we have below.
Now if you are a guy and jumping with excitement right now don't worry, I wont judge. Who knows maybe you'll buy this for your girlfriend or significant other, but I could see a few of you rocking this phone. I would for about a day or so, but that is all I think I'd be able to handle. Apparently this new variation of the Galaxy S II is Samsung's way of luring the ladies from something like the HTC Rhyme. Although HTC said it wasn't meant just for the women, but that plum purple color could have fooled me.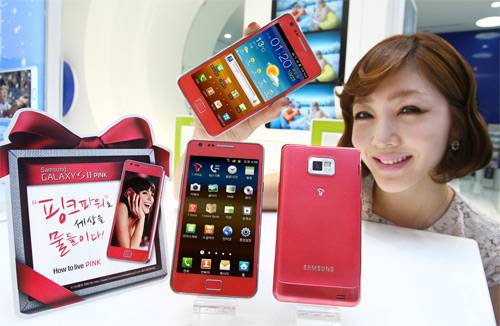 According to SammyHub this new hot pink Galaxy S II is available now but currently only in South Korea but they expect it to hit other regions shortly. Samsung now offers their flagship Galaxy S II in black, white, and now hot pink. The white model is available from many carriers already so eventually we may see the pink variation land on the US.
Will you be buying one?