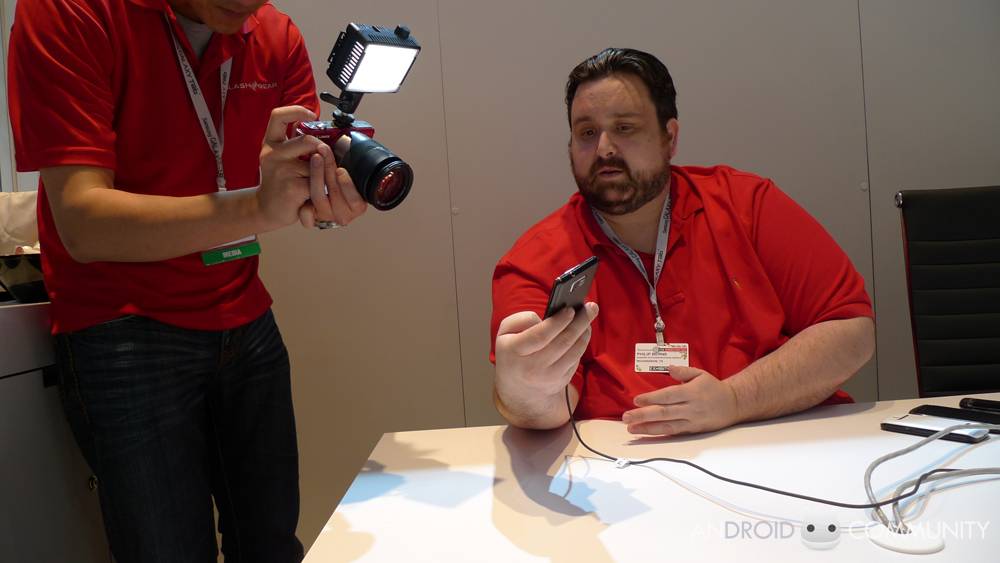 We've been given the opportunity to take a hands-on peek behind the scenes at Samsung with a fully functional Samsung Galaxy S II phone running Android 2.3.1 with TouchWiz 4.0 over the top. In addition to the hands-on video we've got here, we've also got a demonstration of some of the more fun gesture-based elements in TouchWix 4.0 [as presented by] our main homie Philip Berne. The Samsung Galaxy S II handset is an impressive device – one that I mistakenly call the thinnest device in Samsung's line of phones.*
*The reason I'm wrong is that it's in fact the thinnest phone ever. Period. In the world, ever. A point we heard more than once this past week is that the thickness of Samsung's newly introduced versions of their Samsung Galaxy Tab line the 8.9 and the 10.1, are 8.6 mm compared to the Samsung Galaxy S II which is an amazing 8.49 mm. That's thin! Holy crap!
A bit on the specs: this phone features a 4.3-inch Super AMOLED WVGA display, a nameless 1GHz dual-core processor, an 8-megapixel camera on the back, a 2.0-megapixel camera on the front (NOTE, I MISTAKENLY SAY 1.3MP IN THE VIDEO,) and what will surely be the newest version of Gingerbread when the device is released. There've been some mixed reports on this, saying sometimes that it'll be released with Honeycomb, but I assure you, holding this device in my hands literally, it's got Android 2.3.1, for sure, for real.
[vms a21425a59afb269c2a14]
This phone is both large and small, having a brilliantly fabulous screen (when the battery is charged up, that is,*) rolls out with a dual-core processor, but manages to slide under doors with it's smallest-ever thinness. It's going to be a barn-buster. It's going to be the best!
Have a look at our closeup shots of this phone, check out the video(s) we've got filmed of the insides and the handling, and get pumped up for our full review that shall be coming sooner than later!
Also BONUS here's the original press release if you've not yet happened upon it:
Samsung announces the GALAXY S II, World's thinnest Smartphone that Will Let You Experience More with Less

Global launch of Samsung's most powerful smartphone delivers unmatched performance with a Dual-Core application processor and best-in-class viewing experience by Super AMOLED Plus display in sleek and lightweight design

BARCELONA, February 13, 2011 – Samsung Electronics Co. Ltd., a leading mobile phone provider, today announced the Samsung GALAXY S II (Model: GT-I9100), a beautifully thin (8.49mm) and lightweight, dual-core smartphone that combines an unmatched viewing experience with incredible performance.

The Samsung GALAXY S II uses Android™ 2.3 Gingerbread, the latest version of the world's fastest-growing mobile operating system. The next generation smartphone includes access to Samsung's four new content and entertainment hubs, seamlessly integrated to provide instant access to music, games, e-reading and social networking services. 

"In 2011, we will take Samsung's leadership in Speed, Screen and Content to a whole new level," said JK Shin, President and Head of Samsung's Mobile Communications Business. "With the GALAXY S II, Samsung wants to set the new standard of quality viewing on mobile, powerful performance, and slim and modern design."

"GALAXY S II is a natural and powerful evolution of GALAXY S. Building on the phenomenal success of the original Samsung GALAXY S, we are proud to unveil the ultimate smartphone. Consumers no longer have to contain themselves – the Samsung GALAXY S II allows them to design their own smart lives."

"We're pleased to see Samsung bring another Android-powered device to market to help grow the Android ecosystem," said Andy Rubin, Vice President of Engineering at Google.

Powerful Performance
Incorporating a dual-core application processor and advanced wireless network (HSPA+ 21) connectivity, the Samsung GALAXY S II has the speed and power to provide an unrivalled mobile performance. Dual-core application processor delivers compelling features such as fast web browsing, multi-tasking comparable to a PC-like environment, supreme graphics quality and instantly responsive 3D user interface on the large screen. The GALAXY S II also delivers seamless multitasking, switching between applications instantly. Superior 3D hardware performance makes games and video incredibly fast and smooth. 

With super-fast HSPA+ connectivity, the GALAXY S II offers rapid mobile download speeds while BlueTooth® 3.0+HS considerably reduces data transfer times.The Samsung GALAXY S II has been equipped with an 8MP, high-profile camera and camcorder with 1080p full HD recording and playback. With Samsung's patented AllShare technology, customers can capture, create and then share their experiences hassle-free

A Next Level of Viewing Experience
The Samsung GALAXY S II has been equipped with Samsung's new crystal-clear Super AMOLED Plus screen, the most advanced mobile visual display ever created. Setting the standard of quality viewing on mobile, Super AMOLED Plus introduces the best in quality in color gamut, contrast ratio and edge sharpness. Using RealStripe screen technology and a greatly increased sub-pixel count, Super AMOLED Plus complements the mechanics of the human eye to recognize images look clearer and more detailed than ever before. With a wider viewing angle and increased visibility in outdoor, the Samsung GALAXY S II provides a more vibrant viewing experience than any other mobile devices. 

Even with its unrivaled performance, the innovative Super AMOLED Plus display does not compromise battery performance. A significant reduction in power consumption from Super AMOLED display means it is also more energy-efficient than other comparably-sized devices, allowing Samsung to minimize device weight.

Samsung GALAXY S II Goes to Work
Samsung has introduced a new range of enterprise mobility solutions, expanding the business capabilities of the Samsung GALAXY S II and helping enterprise customers empower a flexible and connected mobile workforce. Samsung has partnered with IT industry leaders to offer the most relevant enterprise solutions to the Samsung GALAXY S II, working seamlessly on the Android Gingerbread platform and paying special attention to securing data and network. These solutions include enhanced conferencing and connectivity services from Cisco, the most comprehensive mobile implementation of Microsoft Exchange ActiveSync and secure remote device management from Sybase.

A New World of Entertainment and Smarter Interaction
Samsung has selected the Samsung GALAXY S II as its premium mobile product with which to launch Samsung Hubs – integrated mobile applications designed to fit every element of your life. With Samsung Hubs, the Samsung GALAXY S II delivers rich catalogues of books and magazines, music, advanced mobile games and control of your online social life, all from a single device.

• Social Hub Premium: The future of communication – talk to whoever you want, however you want, all from one place – your contact's list. Communication history, IM status, and updates from social networking sites are all readily available. From here, users can access all types of messages (push e-mail, text, VM and SNS) and respond directly without resorting to individual applications. It truly acts as a hub for entire social life. Server.
• Readers Hub: Carry an enormous library of books, magazines and newspapers on-the-go. Through strategic partnerships, Samsung Readers Hub provides over 2.2 million books and novels, 2,000 global and local newspapers in 49 languages and 2,300 popular magazines in 22 languages.
• Game Hub: The easiest way to download and play best-in-class mobile games. Featuring a 3-axis gyroscopic sensor, the Samsung GALAXY S II unleashes a world of gaming possibilities. Try for free and download premium titles from partners like Gameloft, or 'enjoy Social Network Games (SNG) powered by mobage including ngmoco's We Rule and We City'.
• Music Hub: Make Samsung GALAXY S II a personal music manager and access over 12 million tracks from 7digital. Discover what's hot from top charts, search for favorite music, get recommendations on albums, enjoy previews and download them directly to Samsung GALAXY S II.
The Samsung GALAXY S II gives customers more choice in personalizing their smartphone experience. New for the Samsung GALAXY S II, Samsung has introduced Live Panel, a service that aggregates live web and application contents to a single customizable home-screen. Customers can design the lay-out of their own Live Panel, online services and mobile apps to appear on-screen. SNS feeds, information and many more applications can all be embedded and accessed instantly through the magazine-like layout.

With the enhanced voice technology on the Samsung GALAXY S II, customers will be able to do more with less. From opening the app to controlling the messaging, social media, email and calling, Samsung Voice Solution will recognizes voice and convert it to text and vice versa. Customized Voice Translation application makes the Samsung GALAXY S II the perfect travel companion, translating voice or text into – and from – a range of languages: simply speak a word or phrase into the handset and it will instantly translate it, with audio and text output.

For swift and simple device management, Samsung has introduced Kies Air. With Kies air, consumers can manage their smartphone contents from their PC, via local WiFi connections. download photos taken on the built-in camera, listen to music, check missed calls and send messages in the web browser on their PC. For added connectivity, WiFi Direct allows consumers to connect to wireless-enabled PCs and printers without the need for wireless access points. According to market requirement, the GALAXY S II is able to incorporate Near Field Communication (NFC) technology to support emerging mobile payment service and other services with mobile operators.

Enterprise Solutions
Microsoft Exchange ActiveSync – The comprehensive mobile implementation of Exchange ActiveSync, which provides the most policies and restrictions support among Android ActiveSync clients, along with e-mail, calendar, contacts and tasks synchronization with a Microsoft Exchange Server
On Device Encryption – A security solution that enables the protection of mobile data without the need to sacrifice speed and functionality. Superior performance can also be achieved when incorporated with Sybase Afaria Mobile Device Management and Microsoft Exchange ActiveSync, both of which complement the encryption support with their own mechanisms.
Cisco AnyConnect Virtual Private Network – provide reliable and easy-to-deploy encrypted network connectivity for mobile workers everywhere for business email, virtual desktop, and other Android apps, AnyConnect enables business-critical application connectivity

Sybase Afaria Mobile Device Management – provides the comprehensive capabilities that IT requires to allow mobile workers access to enterprise assets using the device of their choice. IT can now confidently extend corporate security policies to the Android platform, allowing for the adoption of both personally-owned or corporate owned Galaxy S II.

Cisco WebEx – the workforce will be able to stay connected to important meetings wherever they are while using Samsung Galaxy devices; users can view shared desktops, browsers, applications and documents with live annotations.

Cisco Mobile – a VoIP solutions allowing the workforce to make and receive calls over Wi-Fi using an Android interface, providing significant cost-efficiencies for an international workforce

Samsung GALAXY S II Product Specifications

Value-added Features Android Market™, Adobe Flash 10.1 support, Samsung TouchWiz, QuickType by SWYPE
Document Viewer / Editor Android Brower, RSS Reader, Exchange ActiveSync, Google MapsTM with Latitude, Places, Navigation (beta), A-GPS, Google Voice SearchTM, Lost Phone Management
Connectivity Bluetooth® technology v 3.0 + HS, USB 2.0, Wi-Fi 802.11 (a/b/g/n), WiFi Direct, NFC Connectivity (Optional), MHL, DLNA (AllShare)
Sensor Accelerometer, Light, Digital Compass, Proximity, Gyroscope sensor,
Memory 16/32GB + microSD (up to 32GB)
Size 125.3 x 66.1 x 8.49mm, 116g
Battery 1650mAh
Network GSM 850/900/1800/1900, HSPA+ 21 850/900/1900/2100
OS Android 2.3 Gingerbread
Display 4.27" WVGA (480×800) Super AMOLED Plus
Processor ( BB& AP ) 1 GHz Dual Core Application Processor
Camera Main(Rear): 8.0-Mega Pixel Camera AF with LED Flash, Front: 2.0-Mega Pixel Camera, Single Shot, Beauty Shot, , Panorama Shot, Smile Shot, Action Shot, Cartoon Shot
Video Codec : MPEG4/ H.264/ H.263/ DivX VC-1, Playback : FULL HD(1080p)@30fps, Recording : FULL HD(1080p)@30fps
Audio MP3, AAC, AAC+, eACC+, 3.5mm Ear Jack & Speaker, Stereo FM Radio with RDS, Voice Recorder
Hub Social Hub
– Integrated Contacts, Integrated Calendar, Unified Inbox
– Premium: SNS push notification, Push Email & Push IM
– Basic: POP3/IMAP Email & IM
(* Availability of Social Hub differs by country and mobile operator)
Music Hub, Readers Hub, Game Hub

* All functionality, features, specifications and other product information provided in this document including, but not limited to, the benefits, design, pricing, components, performance, availability, and capabilities of the product are subject to change without notice or obligation.
About Samsung Electronics Co., Ltd.

Samsung Electronics Co., Ltd. is a global leader in semiconductor, telecommunication, digital media and digital convergence technologies with 2009 consolidated sales of US$116.8 billion. Employing approximately 174,000 people in 193 offices across 66 countries, the company consists of eight independently operated business units: Visual Display, Mobile Communications, Telecommunication Systems, Digital Appliances, IT Solutions, Digital Imaging, Semiconductor and LCD. Recognized as one of the fastest growing global brands, Samsung Electronics is a leading producer of digital TVs, memory chips, mobile phones and TFT-LCDs. For more information, please visit www.samsung.com.