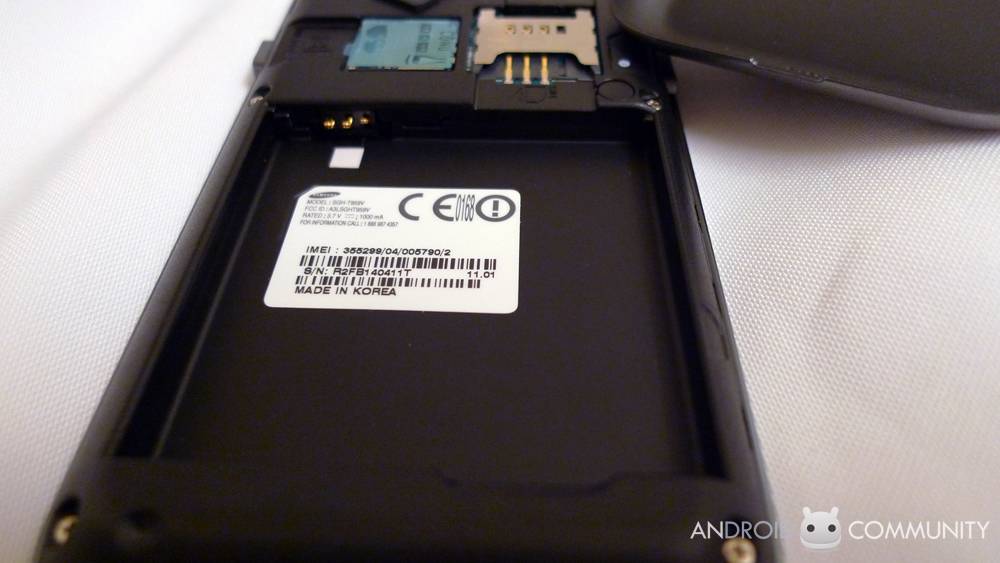 Behold a rather familiar customer upgraded to meet the needs of the ravenous hoards of Galaxy S users across the country. This is the Samsung Galaxy S 4G, and if you're still reading this paragraph, you've quite obviously never picked this phone up with your own hands. It's a nearly perfect replica of the Samsung Vibrant that you may well be rather familiar with save for a couple of differences: a front-facing camera and a super odd super awesome back cover with a dash of pazaazz, making it look like a lighting mistake whenever I take photo – every time!
First Impressions
When first handed this phone at a conference, I remember wondering if someone had forgotten to put the battery inside because it seemed too light. Once I found that the battery was, indeed, in the phone, and that this was the total weight, I would have been impressed, but I was already watching Inception. I was inside of what I was inside of. This phone comes prepared to deliver the film Inception to you via a bit of a login to T-Mobile's media distribution area where you can essentially have the video instantly – and it looks nice! I've had the phone for about a week now and I can tell you instantly that this phone will have no problem holding its own against the rest of its family.
The 4-inch Super AMOLED display behaves and appears rather fantastically, displaying the film Inception as well as all the games your brain can handle while remaining such a small power user that you'll easily get 24 hours of use without going back for a charge. Cameras work fine at 5-megapixels on the back and less than 2 on the front: as a note, here, we'd like manufacturers to up their ante when it comes to front-facing cameras. Detail in everything, please.
Performance
As it was just noted, the display works really well. Brightness a must, and when the 1GHz Hummingbird processor gets a flying, you'll be seeing some real sweet and smooth action happening. TouchWiz is installed and active, and I've got to say, personally, that these newer versions of TouchWiz are really growing on me. For the longest time I've been a fan of strictly 3rd-party user interfaces, but Samsung really appears to be going in the right direction these days.
We're running Android 2.2.1 Froyo, which the world of course knows to be a massively excellent system, and it's rolling around on T-Mobile's HSPA+ network for T-Mobile's version of what they call 4G. We know that this network is not the fastest of the bunch, but heck, it's certainly beyond anything we've seen even a few years ago, and that's saying something. Need an app? Wait about a minute MAX and you'll have it. Want to load a webpage? Basically instant.
Wrap-Up
While this phone is set to be dwarfed in one feature or another by phones coming out in the months ahead, I'll tell you this: here is a solid Android phone we know to be capable of doing anything an average user might want it to do, and it's inexpensive, and it's extremely light. The Samsung Galaxy S 4G comes from the most successful line of Android phones in the history of Android, so you should have no worries on whether or not it'll be worth your time – it will be!
What you've got to decide now, if you're considering purchasing an Android phone, is if you're going to want to stick to a lineage of proven phones such as this one, or if you're going to toss your cash in a barrel marked "oddity." There's a whole slew of Android phones coming out sooner than later that offer up more than just a dedicated Android experience. But is "more" better? And how well do you like T-Mobile? Know these things before you step in the store, and ye shall know the truth.