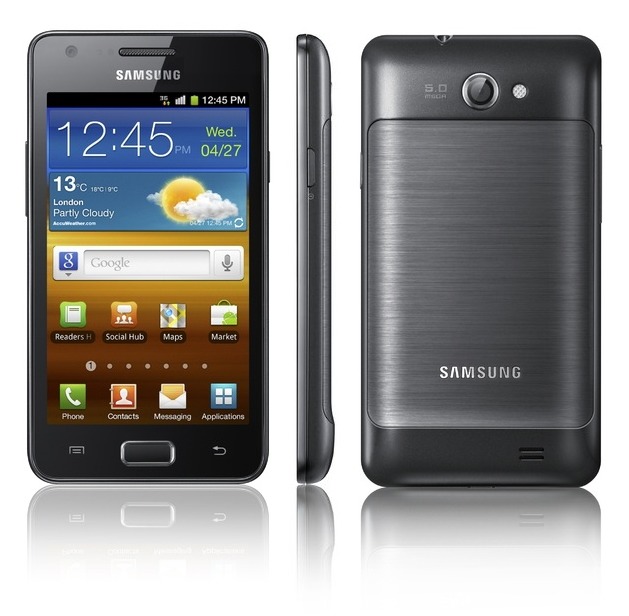 When you first look at the Samsung Galaxy R you would probably think it was the Galaxy S II just by looking at it, but then once you look a little closer you'd notice a few very small changes. This is the Samsung Galaxy R and it's basically a Galaxy S 1.5 or even a 1.9 because it is as close to the SGSII as you can get, without actually being it.
While we are still waiting for the SGSII here in the U.S. other countries are already enjoying it and are about to get the next best thing, its little brother. We are getting left behind in terms of Samsung phones. Recent reports suggest carriers aren't interested but I know all my friends and I are, so get with it T-Mobile and Verizon.
Back to the Galaxy R this phone is very similar to its bigger brother with a few minor changes that should lower the cost. It features a 4.2″ SLCD display (.1″ smaller than the SGSII) a 1 Ghz dual-core Tegra 2 CPU (big brother has a 1.2 Ghz Samsung Exynos) and the camera around back was lowered from an 8MP camera to a 5 MP 720p shooter. So basically the Galaxy R is still comparable if not better than almost all the other options available.
Samsung neatly shaved a few small areas off to get a better price point, while staying extremely competitive. Pricing and official release date have yet to be announced but it should be released around the end of July, early August. It will be interesting to see where it is priced compared to the Galaxy S II and other similar offerings like the Sensation 4G. We should be hearing more if it does launch in July so keep yours eyes on Android Community.
[via Cnet]