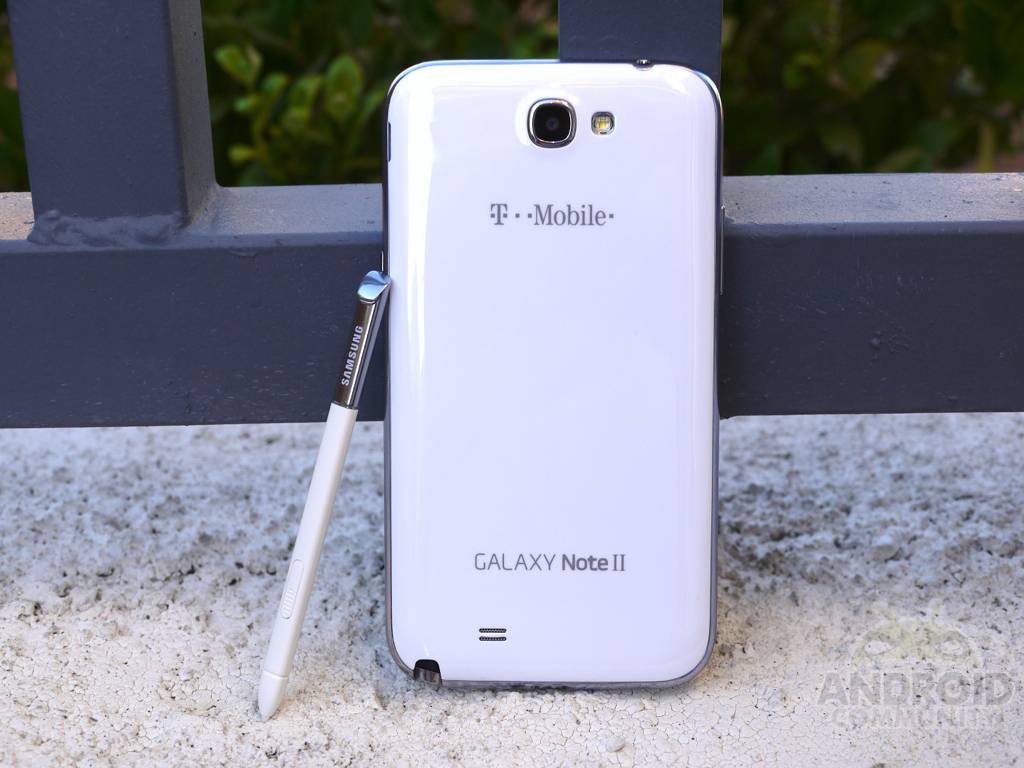 Today we have the pleasure of showing you the new and improved Samsung Galaxy Note II. The smartphone needs no introduction as the newest sibling to the device that started the "phablet" trend. Samsung's Note is back and better than ever with an improved, thinner, more powerful design for round two. The original Galaxy Note was odd and large to say the least but this time around Samsung refined the entire experience. Read on to see our thoughts on the new Note II.
The original Note was released with a lot of fans, but just as many skeptics, us included. Eventually selling millions and millions Samsung is back to sell even more. Hitting all major US carriers with the same awesome idea — just better in every way. The Note is still an impressive smartphone for today's standards, but the Note II brings things to an entirely new level.
Hardware
The Galaxy Note II if you didn't notice, is a fine blend between the original and the popular Galaxy S III in terms of hardware and software both. Where the original could use some help, the Note II is here to do it all. Basically refining and mastering the design and usage of a phablet. With the Note II Samsung made the screen bigger while actually making the actual device smaller and easier to hold. They've replaced that wide 5.3-inch display for a new and improved 5.5-inch 1280x720p HD Super AMOLED display. This time around it isn't quite as wide, but is a little taller. Being 80.5 x 151.1 x 9.4 mm and 182.5g it is slightly heavier, but the slimmer bezels have kept the size in check.
The resolution was slightly dropped to 1280x720p (from 1280×800) to slim down the width. You'll see slightly less on the display, but all the usual widgets and apps should have no problems with the screen size. Something the original had issues with. We'll talk more on that below. As far as the actual hardware and internals everything's been seriously overhauled and put on steroids. The Galaxy Note II comes complete with the Samsung Exynos 1.6 GHz quad-core processor, we have 2GB of RAM, 16GB of internal storage, and they've also increased battery capacity to 3,100 mAh vs 2,500 on the original. Storage options will actually be 16, 32 and 64GB by carrier choice. Samsung nicely included a micro-SD slot for expanding storage options. Then like most Samsung flagship devices we have a quality 8 megapixel camera on the rear, and a 1.9 MP front shooter for video chatting.
Stateside we'll have 4G LTE and HSPA+ models, as well as Bluetooth 4.0, WiFi, NFC capabilities for Samsung Beam and TecTiles, A-GPS, and a notification multicolor LED up top near the earpiece. Here's a view of that hardware:
Just like the original, and the Galaxy S III, the device is laid out like you see above. The front is covered in Corning Gorilla Glass 2, and the back has a plastic removable battery cover. The right side houses the lone power and wake button which is lower than before for easy access, micro-USB, S-Pen slot, and a microphone take up the bottom, then the volume up/down rocker to the left side — which is also lower and easier to locate. The top houses the 3.5mm headphone jack, and a noise cancellation microphone pinhole. The entire design is very similar to both the Note, and the Galaxy S III so previous Galaxy users should feel right at home. You'll be greeted with an aluminum band on the rounded edges, and color options are Pearl White and Titanium Grey.
Still, this is a large phone. It's very pocketable believe it or not, and doesn't look too massive against your face while in use — although I've received a few looks and double takes this past few weeks. The "try it before you buy it" recommendation is still present here. While we love the size, users with smaller hands might want to give it a try in-store before making a decision.
Overall the hardware is simply top notch. But did you expect anything else? Samsung's took everything they've learned in the mobile hardware business and blend it all into one finely crafted smartphone. The hardware is solid, the screen is crisp and vibrant, the cameras are powerful, and the processor under the hood will out-due most netbooks. My only complaint is I'd rather them lose the hardware home button in favor of all on-screen navigation keys.
Software
In a growing trend for Samsung, the Galaxy Note II comes out of the box with the absolute latest Android 4.1 Jelly Bean — something others are still struggling to update to, let alone release devices running it. The software here is top notch, but is completely covered and masked by Samsung's TouchWiz UX. Many are fans, but I prefer Vanilla Android. That aside, the changes to Android 4.1 Jelly Bean are absolutely crucial to the device being a success. Samsung's introduced tons of new apps, widgets, and features that make the S-Pen stylus and the massive 5.5-inch display a joy to use. Before we get ahead of ourselves or you out of the hardware mindset we were just talking about, here's our hands-on unboxing and detailed video review.
[vms 085fd7f69a75b6359c98]
Where do we start with software? If you've ever used a Samsung device you'll feel right at home with the Galaxy Note II, only things are better. Android is smoother and faster, project butter ensures a seamless and stable user experience, and everything just runs snappy but you'll quickly noticed the aesthetics. The video above should give you an excellent idea of the software as a whole, and what to expect while enjoying the S-Pen stylus. Below we have tons of screenshots of the options available as well. Here's the apps out of the box.
Airview is an awesome addition to the Galaxy Note II that makes it truly unique in the world of Android, and mobile as a whole. Airview uses the active S-Pen stylus and digitizer to actually sense when the S-Pen is near the display. Once a few millimeters away you'll get a circle or "cursor" on screen. This enables airview preview popups, hints for buttons and icons, as well as tons of other useful features. Simply put the S-Pen near a photo album and you'll instantly be greeted with an entire preview without ever clicking. It works like a mouse on a PC, only for Android. The same awesome previews work in the browser, gmail, and many other native apps on the Galaxy Note II.
From Samsung's own S Note app you get everything we know and loved on the original Note, but better. Handwriting recognition, object shape-matching, handwriting-to-text and more the options are limitless. The same could be said with S-Voice, as well as Google's equally impressive Google Now and more. The apps and features available between both parties make this one highly advanced smartphone.
As you saw in our video above the options are pretty wide. From taking screenshots with the stylus, cropping partial images or text right from the screen and more the S-Pen stylus makes the Note II a powerful content creation device. As well as the ultimate business smartphone. Samsung's introduced one-handed use, left handed operation settings and more to make the experience top notch, even if you're a lefty like me or have smaller hands.
Sadly Google Now requires users to hold down the home button (which also brings up Android's multi-tasking) then select the small "G" to bring up Google Now. Overall the implementation is nice, but I'd love an easier route to Google Now or S-Voice. Overall Android 4.1 is a finely tuned machine here from Samsung. They've kept Google Now, Jelly Bean expandable notifications are present and work great, Project Butter keeps things smooth, stable, and responsive. Then Touch Wiz only enhances the experience while catering to the many functions and features of the S-Pen.
S-Pen
Samsung's stylus, better known as the S-Pen, has received a few changes too as we mentioned above. Now it's larger and easier to hold. The entire design mimics a pencil and makes for a comfortable experience. It also is a bit longer and the tip has a softer construction to be even easier on the display glass. The writing feel is similar to a ball-point pen. All of this still fits snugly inside of the smartphone (unlike some we've seen) and now the device even recognizes once it's been removed, or put back.
The Galaxy Note II will launch a dedicated S-Pen homescreen only when the stylus is removed for use, and it also unlocks the smartphone too. Then you'll get dedicated homescreen shortcuts, as well as notification pulldown options catered around the S-Pen. Then Samsung's implemented a feature so you'll never lose that stylus. If enabled, the device will notify users if the S-Pen is left behind by noticing you walk away without it inserted. This can get irritating if you walk around the house — so nicely the feature is an option in settings. Overall the new S-Pen is bigger, more comfortable to hold, and you won't get hand fatigue trying to hold it while drawing, writing, taking notes, or playing Draw Something.
Performance
Being powered by the Samsung Exynos quad-core processor clocked at 1.6 Ghz fused with 2GB of RAM we're sure many are wondering how it performs. Just like the Galaxy S III (international quad-core version) the Note II blows through benchmarks of all types. The only device to top the Note II is the brand new Qualcomm S4 Pro powered LG Optimus G — here's our review. The quad-core inside this device scored well over 6700 in Quadrant, but as usual AnTuTu was a little different. The Note II actually scored higher than my device for some odd reason, which is the same, but only by a few. Then with Qualcomm's own Vellamo the Note II was impressive to say the least. Topping all the charts. 
Camera


Samsung's added their popular 8 megapixel BSI lens to the device. Complete with face detection, burst shutter (up to 20 photos) and more. There's a single LED flash, but you'll hardly need it. The camera works great in low light situations, and is even more impressive outside with ample light. We snapped a few photos around outside with ease, and even indoors a crisp shot wasn't much trouble. Samsung has always had awesome cameras and this is no exception. You still might want a real camera, but this is great for most users. You'll also enjoy 1080p video capture that is extremely impressive. Video recording handled light adjustments better than most smartphones on the market, auto-focus was quite good, and motion blur was minimal. Here's some samples of both pictures and video below.
[vms 379f71c7afc0c9cdca41]
Phone & Battery
Before we speak on battery life we wanted to briefly mention the phone. As a phone this is certainly not what you'd call a "normal" experience. Not to say it has issues, because it doesn't, it's just far from normal. Holding a device of this size up to ones head in public might get a few double-takes or cause one to be self-conscious but I've had no issues. Call quality is great once you find the right earpiece placement in relation to your ear, and volume was excellent. The rear speaker is quite loud for speakerphone calls too. It isn't as loud as the RAZR HD from Verizon, but sure comes close to having some of the better sound on a mobile device without distortion.
Now speaking of battery, you'll be happy to know this area was a success too. The original only received a 2,500 mAh battery, and this time around we get a large 3,100 mAh battery for all day use. It has plenty of juice to make it through an entire day — but we'd love to see a larger battery like the RAZR MAXX HD. There's more than enough room once you look under the battery door. However, we achieved well over a day of usage with moderate use, and well over 3 hours of actual "screen on time." Obviously 4G LTE models from Verizon and AT&T could be different, but were inclined to think results will be similar.
Wrap-Up
The larger than usual Samsung Galaxy Note II with its 5.5-inch display, Is it right for you? Hard to say! We've loved our limited time with the Note II but the fact remains, this is a big device. If you were on the edge in regards to the original, you'll probably feel the same here. It's larger than most phones, heavier, and often times takes two hands for perfect use. Still, this phone is absolutely awesome. Samsung has pushed the cutting edge with their quad-core processor, their amazingly crisp, beautiful, and large 5.5-inch HD Super AMOLED display, brought back the dying breed of a stylus and more.
If you were worried about the Note II fitting in your pocket, bag, or purse, you'll be happy to know it's slightly thinner than the original — but that only helps in hand. This is still not very pocketable (my phone's in my hand almost 24/7 when I'm out and about anyways) and certainly might not fit many jean pockets. If you aren't concerned with the size of the Galaxy Note II then this is a must buy smartphone. It is everything Samsung has envisioned and more.
The Samsung Galaxy Note II has the absolute latest version of Android, the latest screen technology, one of the fastest mobile processors on the planet, and will allow users hours of content creation and consumption. The original Note broke the phablet ice, and the Galaxy Note II is here to break into your wallets instead. Everything about this new smartphone has improved over the original, while also getting a little easier on the hands. While it may not appeal to everyone, those looking for the latest and greatest, love Samsung, or just want a massively beautiful display the Galaxy Note II is the device for you. We'll be hearing from each respective carrier over the coming days for full pricing and details, but expect this to hit for $299 on contract across the US soon.
[device id=3362]