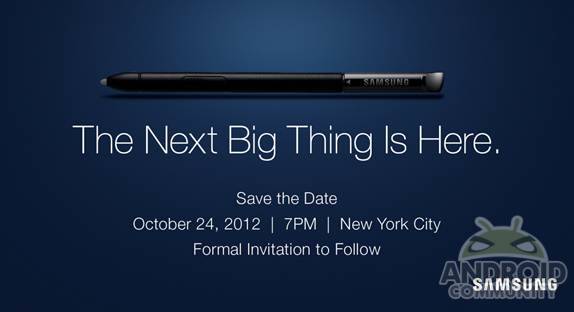 Are you ready for the "next big thing" as Samsung likes to call it. Surely you've seen their commercials showing just how awesome the Galaxy S III is while everyone waits in line for the iPhone 5. Today however they've started sending out those casual "save the date" invites for October 24th where we'll all see what's truly the "next big thing" with the Galaxy Note II for the US.
The Galaxy Note II was announced earlier this month with great excitement. After the original Note sold over 10 million units this Note II is a sure success. Coming with upgrades across the board, Jelly Bean out of the box and more this smartphone looks exciting.
The invite doesn't specifically say Galaxy Note II, but that S-Pen stylus pretty much confirms it. Add to the fact that Samsung announced their new Note will be arriving late October, early November for 5 major US carriers — that is what we all know is coming on the 24th of October.
Above is a nice quick video of what we all expect to see in NYC later next month. That being the same 5.5-inch 1280 x 720p HD rocking quad-core smartphone tablet. Running Android 4.1 Jelly Bean and Samsung's Touch Wiz UX, complete with that S-Pen stylus, 8 megapixel camera and awesomely sleek design. I'll be snagging the Titanium Grey model on Verizon with 4G LTE as soon as possible. Will you go for the Note II, or are you already enjoying that Galaxy S III?
[device id=3362]