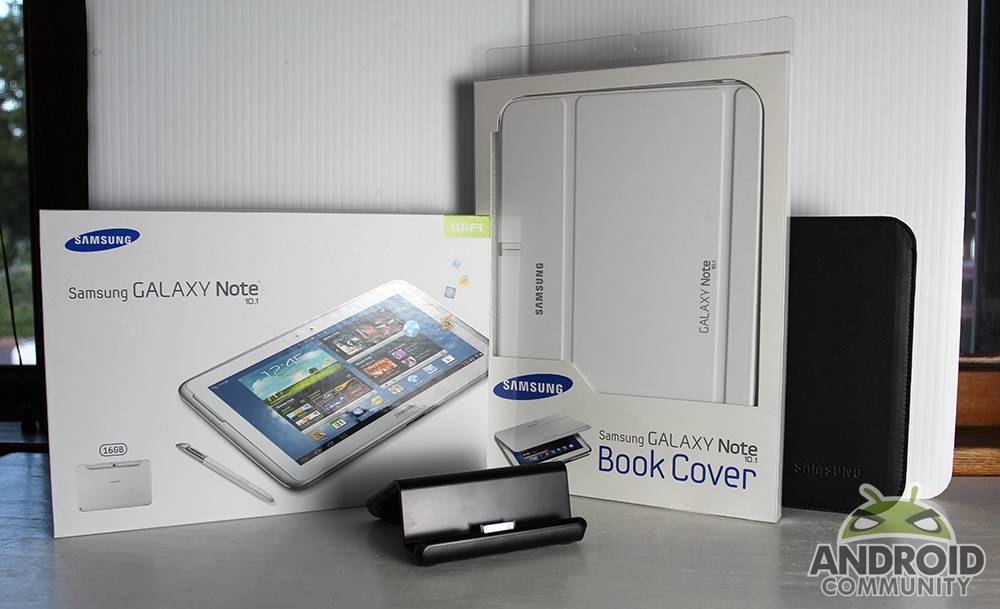 In case you missed the news this afternoon, Samsung just officially announced their Samsung Galaxy Note 10.1 tablet — available tomorrow August 16th. We've seen plenty of it, and now it's finally going to be available for everyone. As usual, Samsung has just detailed an entire line of impressive accessories to go along with it. From a "book cover" that doubles as a stand and more. Check them out below.
First we'll start with that neat looking case they are calling a Book Cover. It isn't a smart case and doesn't have any magnets, but the origami-like folding allows this cover to quickly become a stand. With easy to view multiple viewing modes too. Simple fold it the right way and you're off. Take a peek below.
Then they've also prepared a custom dock for their Galaxy Note 10.1. We are still waiting for more details but this durable, and solid feeling dock easily clicks into the 30-pin connector below, and will charge the tablet at the same time. While it isn't a "smart dock" with HDMI out, they do provide stereo outputs for streaming music or enhancing audio. If fits snug and holds the Note 10.1 securely even while tapping away with the S-Pen as you can see from our video reviews.
Then last but certainly not least is a sleek and lightweight Galaxy Note 10.1 Sleeve protector too. This is made out of what feels like Pleather, and has a soft-touch microfiber lining to protect that beautiful 10.1-inch screen. As you can see from the pictures of the sleeve, and all the other accessories below Samsung is prepared to offer a little of everything. We've seen a lot of their accessories never make it to shelves, but hopefully that isn't the case here. We'll update once we know availability dates and pricing.