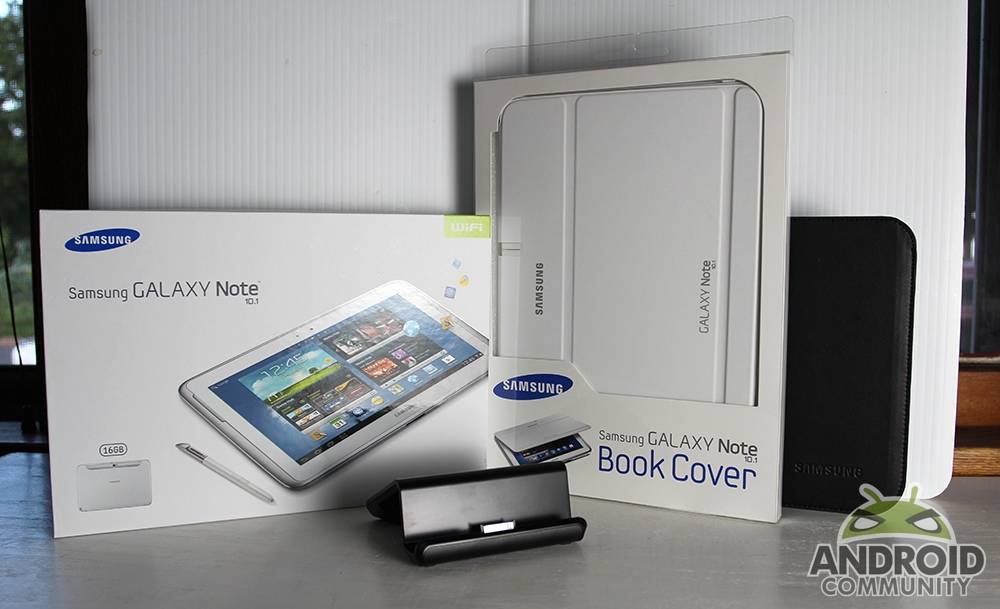 This week we've got our hands on the final release version of the USA-bound Samsung Galaxy Note 10.1, a device that's got a 10.1-inch display and a love for S-Pen magic. This device runs Android 4.0.4 Ice Cream Sandwich and a brand new bit of TouchWiz over the top and has a pen like it's smaller original Galaxy Note counterpart. This device also has front-facing speakers as well as a microSD card slot – and Samsung's most powerful processor yet, the 1.4GHz quad-core Exynos!
Hardware
You've got a relatively large chassis surrounding a 10.1-inch WXGA 1280 x 800 TFT LCD display here, and it feels quite nice to handle. Where Samsung very much took part in the "smallest and thinnest" race with the Samsung Galaxy Tab 10.1 originally, here they've dared to get a bit wider in order to bring us all the gloriousness of front-facing speakers.
Around the rim you've also got a high-quality silver plastic while the center of the device on the front is covered with a single pane of reinforced glass. This device also has a proximity sensor and a 1.9-megapixel camera up front as well for video chat. The top of the device contains a selection of lovely buttons and ports, starting with the headphone jack, then the IR-Blaster, microSD card port, volume up/down, and power/lock button.
The Infrared Blaster is for changing the channel on your television, of course, with Samsung's deal with the Peel app leading the way. With the Samsung Exynos 1.4GHz quad-core processor under the hood here, you've got a collection of benchmarks that beat out essentially the rest of the Android world right this moment – stock builds, anyway.
• Antutu: 12245
• CF-Bench: Native 24386, Java 6906, Overall 13898
• Quadrant Standard: CPU 13041, Memory 4469, I/O 5158, 2D 1000 2D, 3D 2459
Software
Samsung has learned from several devices of the past, the Galaxy Tab 10.1's version of TouchWiz UX, Galaxy S III's Ice Cream Sandwich TouchWiz, and Android's Ice Cream Sandwich for tablets, and has combined the good parts into one new system. You'll find yourself having an easy time getting used to this version of Android as you've basically used it before, several times, with different features on different devices.
You'll jump in directly with the most awesome features that the Galaxy S III had – and has – with AllShare. With this sharing-centric app and set of abilities, you'll be able to do great things like GroupShare. Have a peek at how you'll do presentations in the future.
It's with this system you'll be able to share all of your Samsung devices as one with the cloud-based SugarSync as well. Upload all of your photos and videos automatically for one big party! Then head down to your ability to multi-task in at least one way never before seen on an official build of Android!
The one you've probably never seen nor heard of before is Multiscreen. With this ability embedded into several standard applications like your Gallery and basic Email as well as more advanced apps like Polaris Office, you'll be able to push files back and forth like a snap. Not quite like what you're able to do on a desktop machine white yet, but they're getting there!
You'll also see the Ice Cream Sandwich / TouchWiz version of recent apps, complete with a quick link to your task manager. Then of course there's your TouchWiz UX-born set of Mini Apps, each of them able to sit above whatever else it is you're doing at the time and do their specified task besides.
S-Pen
With your S-Pen you'll be able to do everything the first Galaxy Note is able to and more – with Photoshop Touch you'll be editing photos and creating your own works of art in no time, and with S-Note you're going to be sketching at a generous size. The note-taking experience here feels rather well put together, especially if you've gotten used to taking notes on your original Galaxy Note – more space!
The Galaxy Note 10.1 comes with a set of replacement tips for your S-Pen for if you get too wild with it, too. The pen has been sized and shaped much closer to a tool not unlike a number 2 pencil. The size feels a bit more natural than the Galaxy Note's original tiny S-Pen for sure.
Entertainment
You've got an HD display, a quad-core processor under the hood, and front-facing speakers that are quite impressive – what more do you want? Prop your Galaxy Note up with your official Samsung dock for extra excellence for watching videos and playing big time games. Have a peek here at our quick tour through Netflix, Samsung Media Hub, and a video that's housed on the device itself rather than streaming.
Note that the games are found in the Samsung Games Hub, an app which essentially lets you know which awesome games are out now and will be coming soon that work perfectly well with the Galaxy Note 10.1. Gameloft and Glu are on board, just to name a couple of heavy hitters. You'll also find Samsung's Music Hub – just launched recently here in the USA.
Camera
On the front of this device you've got a lovely 1.9 megapixel camera made for video chat and on the back there's a 5 megapixel camera ready for fair photo and video action. Have a peek at several examples of the highest quality photos and video this machine can muster and see if it suits you!
Battery
Here in the Android tablet universe, it's actually a bit more difficult to find a slate with terrible battery life than it is to find someone with fabulous battery life. In this case, Samsung has made certain to keep their battery in check unless the device runs into a perfect storm, as illustrated here:
As you can see, this constantly-on and constantly-used (nearly) Galaxy Note 10.1 runs out of juice in about 6 hours. When used a moderate amount, you'll certainly have more than a day's life without issue. If you only use your tablet to take a note here and there as well as to check your email, you can expect several days of battery life.
Wrap-Up
Here in the Samsung Galaxy Note 10.1 we've got a rather unique experience, with the ability to create as well as consume on one 10.1-inch touchscreen display with a built-in pen to make it all happen. This device is clearly Samsung's best effort yet, and with the power you get right along with the hardware that just feels nice to use, you've got a winner on your hands. You'll be able to pick this device up from your local tablet-selling outlet immediately if not soon all across the United States.
[device id=2653]