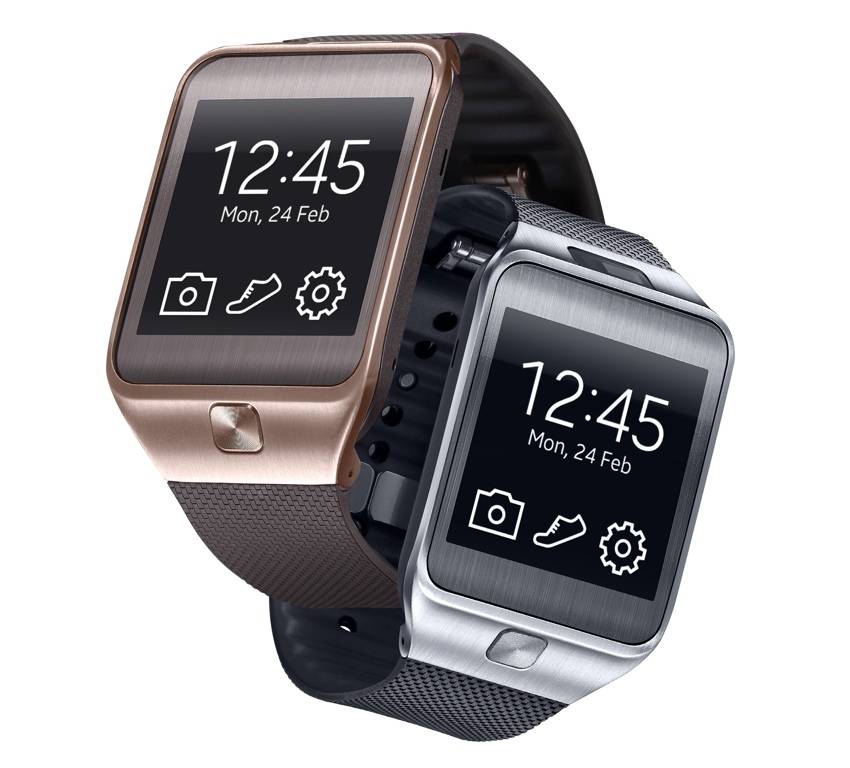 Putting an end to some of the recent rumors, and arriving just ahead of Mobile World Congress, Samsung has unveiled the next-generation Gear smartwatch. Or more specifically, Samsung has announced the Gear 2 and Gear 2 Neo. Both watches will be Tizen-powered and similar to the original model, both will be available in a variety of colors.
With some minor exceptions, both models will be similar in terms of specs, look, and overall size. Both will be sitting with a 1.63-inch Super AMOLED display with a resolution of 320 x 320 and powered by a dual-core 1.0GHz processor. Other specs for both models include 4GB of internal storage, 512MB of RAM, and a 300 mAh battery that is expected to be able to provide up to 2-3 days of run time for "typical" usage. Samsung also mentioned this could go to 6 days with low usage.
The images sitting above are of the Gear 2, which is available in Charcoal Black, Gold Brown and Wild Orange. The Gear 2 is ever-so slightly larger and heavier as compared to the Gear 2 Neo. These measure in at 36.9 x 58.4 x 10.0mm and 37.9 x 58.8 x 10.0mm for the Gear 2 and Gear 2 Neo respectively. Similarly, the Gear 2 and Gear 2 Neo weigh in at 68 grams and 55 grams respectively. The image gallery below shows the Gear 2 Neo, which will be available in Charcoal Black, Mocha Grey and Wild Orange.
Otherwise, both models will arrive as IP67 certified for protection against dust and water resistance. They will also have Bluetooth 4.0 LE, IrLED and noise cancellation, as well as an accelerometer, gyroscope and heart rate sensor. Playing off that last item, both will also have fitness features to include a pedometer, and Sleep & Stress. Both models will also bring features from the original Gear including Bluetooth calling, notification for SMS, email, and apps, along with media playback controls, Smart Relay, S Voice, a stopwatch, timer and the weather.
Also similar to the original Gear, the Gear 2 and a Gear 2 Neo will have app support. In this case Samsung has offered a list of featured apps that include; Banjo, BMW, CNN , Conde Nast, Expedia, eBay, Evernote, Feedly, GARMIN, Glympse, GM (Onstar 4GLTE), iControl, Line, Path, Paypal, RUNTASTIC, Volkswagen, Weather Channel, Under Armour(Map my fitness).
Shifting to the differences (aside from the tiny bit in terms of measurements) and we come to the camera. The Gear 2 camera will be able to capture 720p video at 30fps and still images at up to 1920 x 1080. For clarification, the Gear 2 Neo will not have a camera
Lastly, Samsung has yet to offer anything in terms of a price, however they have said we can expect to see them available beginning in April.