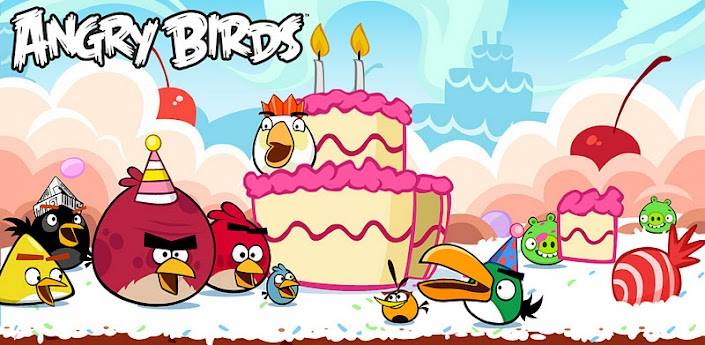 Angry Birds isn't going anywhere quite yet. Although things like Temple Run are getting big the flying and obnoxious birds are here to stay. Today Rovio is celebrating their 2-year anniversary and are doing so with full-fledged update to the original Angry Birds with 15 new birthday themed levels full of cake.
This update has a lot of good things but one part I'm a little unsure about is they've unlocked every single level for all users. That means you wont have to earn it like the rest of us that wasted hours and hours of our lives. Firstworldproblems right? The update is available today, right now in the Android Market. The 15 new levels has also boosted them up to over 300 Angry Bird levels — impressive to say the least.
They've even introduced a new orange expandable bird character to make things even easier for those that want to play all those levels again, or for newbies looking to launch some birds for the first time. The menu's have been tweaked and Rovio mentions a few improvements to the graphics too. I know many might be sick of the Angry birds by now but if you aren't, you'll want to head to the market right now and give it a try. Have fun!