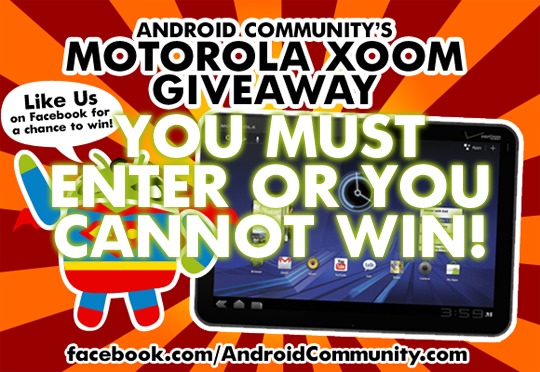 What the heck, you didn't know we had a Motorola XOOM giveaway going on? You've gotta get in on this! We've got three whole wifi-only XOOM tablets here for you to win, and we've got some entry rules so simple that a dog could do it! On the other hand, only humans are eligible, so no dogs, please. Take a peek below at the rules on how to enter, then DO IT!
What you're going to want to do is either head back to the original contest post by clicking right [here] if you want the full ruleset, or just go ahead and enter by checking the following out and doing it!
ALSO check out the rest of the contest on SlashGear where we've got TWO MORE XOOMs up for grabs!
To win one of these fabulous tablets, you must:
1. "like" us on Facebook: facebook.com/androidcommunity.com
2. Comment on the wall saying something nice like "Android Community and NVIDIA have no less than dual-core generosity!"
Contest begins April 11, 2PM PST, and ends May 1, 2PM PST. A winner will be announced every Monday @ 5PM PST here in the main news feed and at our official Facebook page.
WINNERS will be given the opportunity to submit a review of their XOOM and have it posted on the front page of AndroidCommunity.com! *Reviews may be edited or modified before publication and are considered works for hire under the 1976 Copyright Act. Submissions will be ineligible for payment or remuneration.
Go for it!